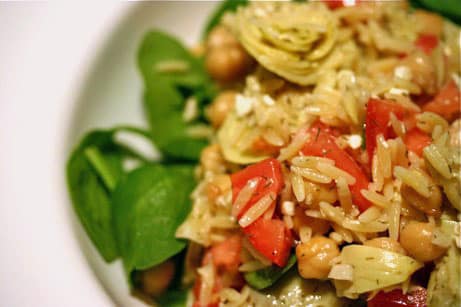 Orzo Salad with Chickpeas & Artichoke Hearts
This post may contain affiliate links. Thank you for supporting the brands that keep me creative in my tiny kitchen!
This salad was a nice change of pace. I like that it's a "regular" salad and a pasta salad. I liked this more than Dino did. The only thing I changed was to use dried dill because the store was out of fresh. That would have made it even better! I think this would be good with chicken added in, too!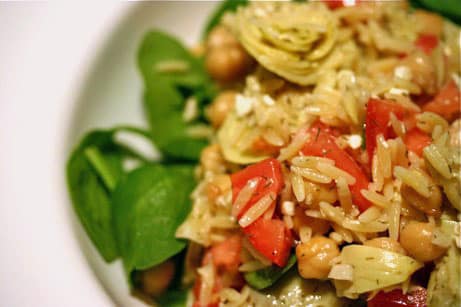 Orzo Salad with Chickpeas & Artichoke Hearts
Eating Well
Quintessential Greek flavors—feta, lemon and dill—combine perfectly in this hearty salad. To complete the Mediterranean mood, try pairing it with a Greek Retsina or a Portuguese Vinho Verde.
½ cup orzo or other tiny pasta
1.5 teaspoons extra-virgin olive oil
1 clove garlic, crushed and peeled
⅛ teaspoon salt
1 ½ tablespoons lemon juice
⅛ teaspoon freshly ground pepper
1 14-ounce can artichoke hearts, drained and chopped
1 7-ounce can chickpeas, rinsed
⅓ cup crumbled feta cheese
2 tablespoons chopped fresh dill
1 ½ tablespoons chopped fresh mint
1 large tomato, chopped
2 cups baby spinach leaves
Bring a small saucepan of water to a boil. Cook orzo until just tender, about 9 minutes, or according to package directions. Drain and rinse under cold water until cool. Press to remove excess water. Transfer to a medium bowl and toss with oil.
Mash garlic and salt into a paste with the back of a spoon in a medium bowl. Whisk in lemon juice and pepper. Add the cooked orzo, artichokes, chickpeas, feta, dill and mint; toss gently to combine. Add tomatoes and toss again.
Divide spinach between 2 plates and top with the salad.
Nutritional notes:
Calories 431
Carbohydrate Servings 4 Carbohydrates 74 g
Protein 18 g Fat 8 g
Saturated Fat 2 g Cholesterol 5 g
Monounsaturated Fat 3 g Dietary Fiber 9 g
Sodium 705 mg Potassium 527 mg
Exchanges 4 starch, 2 vegetable, 1 very lean meat, 1 fat Nutrition Bonus Vitamin C (50% daily value), Vitamin A (40% dv), Iron (35% dv).
MacGourmet Rating: 4 Stars