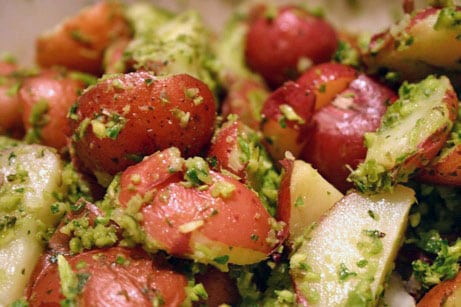 New Potato Salad with Scape Salsa Verde | Beer and Brown Sugar Steak Marinade
This post may contain affiliate links. Thank you for supporting the brands that keep me creative in my tiny kitchen!
We finally made it to the Ossining Farmers' Market on Saturday and got some great stuff! One of the things we found were garlic scapes, which I've heard of, but hadn't ever tried. So I bought them and looked up a recipe to use them in.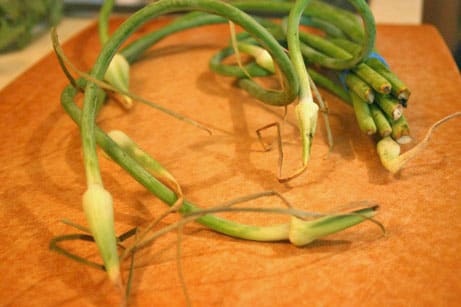 This potato salad is really good! It's crazy how much flavor the garlic scapes contribute to the pesto. We really liked them, and I'd like to get more next time to try in a different way – maybe a stir-fry or something. Most of the stuff I found online is for pesto. Anyone have an awesome recipe that calls for them?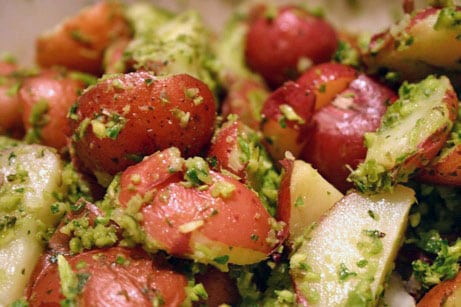 New Potato Salad with Scape Salsa Verde
Wordpress veganvisitor
3 Lbs New Red Potatoes
8-10 Garlic Scapes, trimmed
¼ cup Basil Leaves, packed
⅓ cup Flat Leaf Parsley, packed
1 Tablespoon Capers, about 30
1 teaspoon Dijon Mustard
1 Tablespoon Red Wine Vinegar
4 Tablespoons Olive Oil
¼ teaspoon Salt, or to taste
Freshly Ground Black Pepper, to taste
Wash and boil the potatoes in a large pot with enough water to cover.
Cook potatoes until just tender, or al dente, so you are able to cut through them easily.
Meanwhile, trim the seed buds from the top of the scapes and discard.
Combine the scapes along with the basil and parsley, pulsing to finely chop.
Add the capers, mustard, salt, pepper and vinegar, continuing to blend while drizzling in the oil through the feed tube.
Scrape down from the sides, taste and adjust salt and pepper if necessary.
Drain the potatoes. Once they are cool enough to handle quarter them into even sized wedges, unless they are very small.
Add the potatoes to a large bowl and add about half of the dressing at first. Toss well to coat adding more to your liking.
Serve at room temperature.
MacGourmet Rating: 4 Stars
---
For the main course, we made our favorite marinated steak. We got a rib eye from the farmers' market and used used some beer that we picked up from a local brewery on Friday. This is by far the best marinade we've had for grilling, and we keep coming back to it whenever the weather is nice. Dino used mesquite wood chips in with the charcoal this time, and I used Penzey's 4/S Smoked Seasoned Salt. It turned out better than ever! It's great, too, because it doesn't need much time to marinade.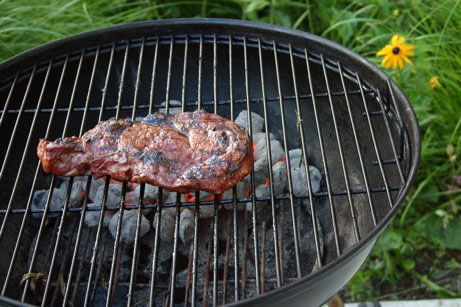 Beer and Brown Sugar Steak Marinade
Allrecipes.com – Craig Jones
"I concocted this marinade on a lark and it turned out great. The flavors complement and do not overwhelm the natural taste of beef."
4 servings
PREP TIME 30 Min
COOK TIME 15 Min
READY IN 1 Hr 10 Min
2 (16 ounce) beef sirloin steaks
¼ cup dark beer
2 tablespoons teriyaki sauce
2 tablespoons brown sugar
½ teaspoon seasoned salt
½ teaspoon black pepper
½ teaspoon garlic powder
1. Preheat grill for high heat.
2. Use a fork to poke holes all over the surface of the steaks, and place steaks in a large baking dish. In a bowl, mix together beer, teriyaki sauce, and brown sugar. Pour sauce over steaks, and let sit about 5 minutes. Sprinkle with 1/2 the seasoned salt, pepper, and garlic powder; set aside for 10 minutes. Turn steaks over, sprinkle with remaining seasoned salt, pepper, and garlic powder, and continue marinating for 10 more minutes.
3. Remove steaks from marinade. Pour marinade into a small saucepan, bring to a boil, and cook for several minutes.
4. Lightly oil the grill grate. Grill steaks for 7 minutes per side, or to desired doneness. During the last few minutes of grilling, baste steaks with boiled marinade to enhance the flavor and ensure juiciness.
MacGourmet Rating: 5 Stars
---
We also threw some corn and pineapple on the grill. What a feast!