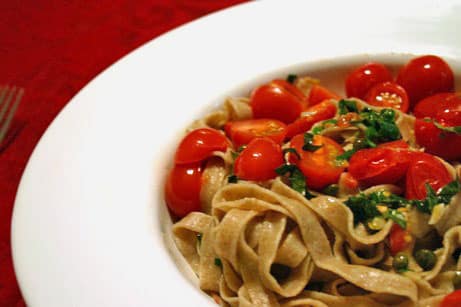 Whole Wheat Tagliolini with Fresh Cherry Tomato Sauce
This post may contain affiliate links. Thank you for supporting the brands that keep me creative in my tiny kitchen!
I made this recipe again, and again I used fresh pasta that I bought from a gourmet store. The sauce recipe is so quick and easy that it makes a perfect weeknight meal. I will definitely make her pasta recipe one day – when I have more time.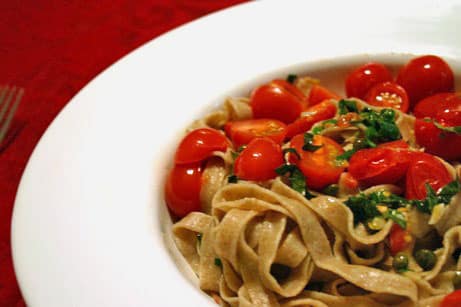 Whole Wheat Tagliolini with Fresh Cherry Tomato Sauce
Cooking Light April 2008
The nutty, slightly sweet flavor of whole wheat flour is a tasty addition to a basic pasta recipe. Look for the smallest sweet tomatoes you can find for this simple sauce. Substitute grated orange rind for the lemon, if you prefer.
Pasta:
1 cup all-purpose flour (about 4 1/2 ounces)
1 cup whole wheat flour (about 4 3/4 ounces)
1 tablespoon plus 1/4 teaspoon salt
5 tablespoons water
2 tablespoons extravirgin olive oil
2 large eggs
6 quarts water
Sauce:
2 tablespoons olive oil
2 cloves, garlic minced
5 cups quartered cherry tomatoes
½ cup thinly sliced fresh basil
3 tablespoons drained capers
1 teaspoon grated lemon rind
¼ teaspoon crushed red pepper
1. To prepare pasta, lightly spoon flours into dry measuring cups; level with a knife. Combine flours and 1/4 teaspoon salt in a food processor; process 30 seconds. Combine 5 tablespoons water, 2 tablespoons olive oil, and eggs in a bowl, stirring well with a whisk. With processor running, pour water mixture through the food chute, processing just until dough forms a ball. Turn dough out onto a lightly floured surface; knead 5 or 6 times. Shape dough into a disk. Dust dough lightly with flour; wrap in plastic wrap. Let stand 30 minutes.
2. Divide dough into 3 equal portions. Working with 1 portion at a time (cover remaining dough to prevent drying), press dough into a flat rectangle. Roll the dough into a 14 x 14–inch square, dusting with flour, if necessary (turning dough over occasionally and dusting surface with flour as needed). Lay dough sheet flat; fold ends so they meet in the middle. Fold the sheet in half like closing a book. Fold in half again to form 8 layers of pasta. Using a sharp knife, cut the pasta crosswise into 1/4-inch-wide noodles. Separate noodles, and dust with flour. Place noodles on a jelly-roll pan dusted with flour. Repeat procedure with remaining dough portions.
3. Bring 6 quarts water and remaining 1 tablespoon salt to a boil in a large Dutch oven. Place noodles in a sieve; shake off excess flour. Add noodles to pan. Cook 1 1/2 minutes or until done; drain.
4. To prepare sauce, heat 2 tablespoons oil in a large nonstick skillet over medium-low heat. Add garlic to pan; cook 3 minutes, stirring frequently (do not brown). Remove from heat. Stir in tomatoes and remaining ingredients. Toss with noodles.
Yield 4 servings (serving size: 1 1/4 cups)
Lidia Bastianich
Nutritional notes:
CALORIES 408(38% from fat); FAT 17.1g (sat 2.8g,mono 11.2g,poly 2.6g); PROTEIN 12.7g; CHOLESTEROL 93mg; CALCIUM 58mg; SODIUM 565mg; FIBER 7.3g; IRON 4mg; CARBOHYDRATE 53.5g
MacGourmet Rating: 5 Stars