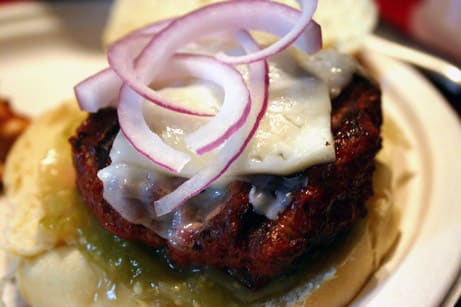 Supper Club: Spiked Spanish Burgers with Warm Tomatillo Sauce | Chicken Shish Kebab (tavuk Sis Kebap) | Black Bean Dip |
This post may contain affiliate links. Thank you for supporting the brands that keep me creative in my tiny kitchen!
The Supper Club met at our house this month, and our theme was tailgating. We were grilling, playing WiiSports, and listening to live concert recordings. It was a lot of fun, but it happened to be on one of the hottest days of summer, so Dino was stuck outside manning the grill by himself.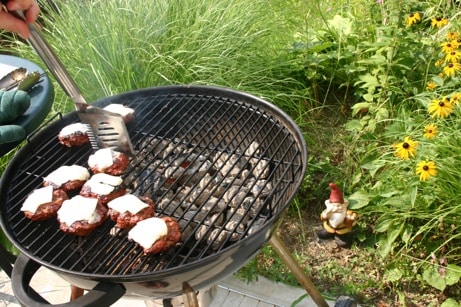 This recipe is one that I made up a while ago, and we decided it would be a great time to try it out again. Everyone loved them, and they turned out great! I used hamburger buns instead of grilled ciabatta this time, and the charcoal grill definitely added something nice!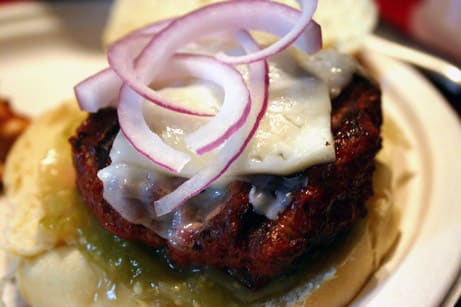 Spiked Spanish Burgers with Warm Tomatillo Sauce
1 red onion, half diced, half sliced
1 ¼ pounds ground beef
1 egg
salt and freshly ground black pepper
1 teaspoon smoked Spanish paprika
½ teaspoon garlic powder
½ teaspoon chipotle chile powder
1 shot tequilla
½ lime, zested
1 tablespoon extra-virgin olive oil
1 clove garlic, minced
8 tomatillos, shucked and chopped
hamburger buns
Manchego cheese, sliced
Heat 1T olive oil in a medium saucepan. sauté half of the diced red onion, garlic and tomatillos until it they soften and then thicken into a sauce.
Mix remaining diced red onion with beef and next 7 ingredients (through lime zest) with hands in a large bowl. Form into patties and grill to your desired doneness. Add sliced cheese on top, if desired, and leave on the grill to melt.
To plate, slather the top of a bun with tomatillo salsa. Top with burger and onion slices.
MacGourmet Rating: 5 Stars
We also made one of our favorites from Binnur – this time on the grill instead of on the broiler. They stuck to the skewers, but tasted better than ever!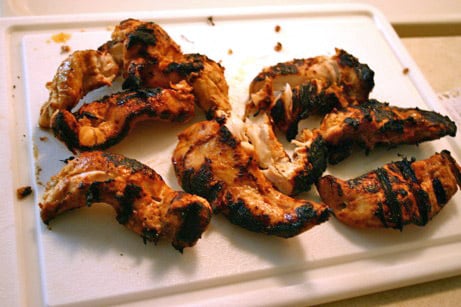 Chicken Shish Kebab (tavuk Sis Kebap)
Binnur's Turkish Cookbook
350 gr chicken breast, boneless, cut in medium sized cubes
2 large tomatoes, cut in halves
2 cubanelle peppers
Marinade:
½ cup plain yogurt
½ teaspoon cumin
1 teaspoon red pepper, powder
½ teaspoon cayenne pepper
1 clove, garlic smashed with salt
1 teaspoon pomegranate paste
2 tablespoons olive oil
Marinate the chicken overnight in the fridge in a container with a lid. Bring the chicken to room temperature one hour before grilling. Divide up the chicken cubes and place on four skewers.
Preheat the barbecue or oven (grill). Place the skewers on the rack along with the peppers, tomato halves (inside up). Keep the marinade aside. Grill the chicken for about 7-8 minutes. Make sure to turn the skewers so that all sides are cooked equally. Every time you turn the chicken, brush with marinade.
Serve the Chicken Kebab on Turkish Rice Pilaf, lemon wedges, roasted tomatoes and Cubanelle peppers (remove the skin).
Makes 2 servings.
MacGourmet Rating: 5 Stars
This dip was awesome! We ate it with tortilla chips. It doesn't look too pretty, but the flavors are fantastic! I misplaced the recipe though! I'll have to try it again sometime 🙂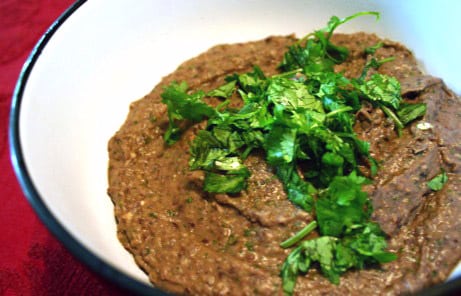 Black Bean Dip
I also made my grandma's deviled eggs again.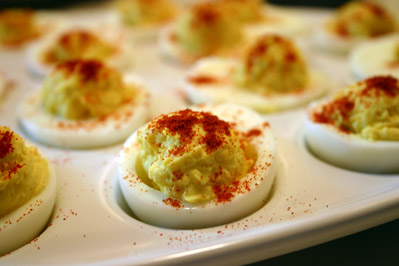 Deviled Eggs
Grandma
eggs, hard boiled
yellow mustard
white vinegar
sugar
mayonnaise
salt
black pepper
paprika, for garnish
This one you kind of have to do by taste – mash up the cooked egg yolks and mix with a big blob of Miracle Whip, a splash of white vinegar, a sprinkle of sugar, a squirt of yellow mustard, and salt & pepper. Mix it all in a bowl and put it back in the hollowed out eggs and top with paprika.
MacGourmet Rating: 5 Stars
And finally, I made another batch of sangria, which is always a big hit!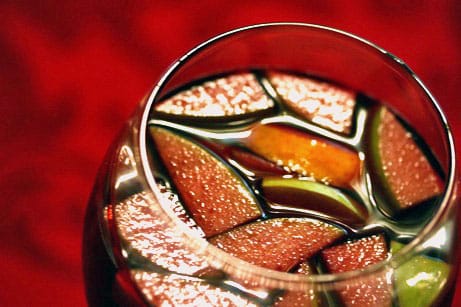 Sangria
1 1.5 liter bottle red wine, (I used Yellow Tail Cabernet-Merlot)
1 orange, diced
2 Granny Smith apples, diced
1 12 ounce bag frozen raspberries
¾ cup blueberries
apple juice
ginger ale
3 shots Triple Sec
Put fruit and wine into large pitcher. Add Triple Sec and fill it to the top of the pitcher with apple juice and ginger ale (I use a little more juice than ginger ale).
MacGourmet Rating: 5 Stars