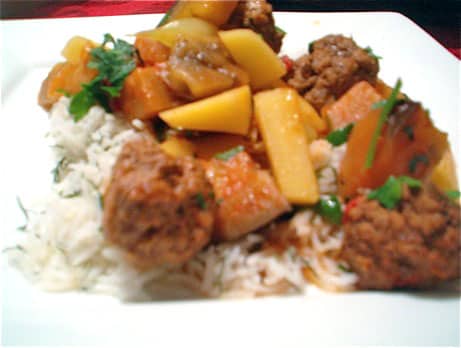 Sour Kebab (Eksili Kebap) | Radish Salad (Turp Salatasi)
This post may contain affiliate links. Thank you for supporting the brands that keep me creative in my tiny kitchen!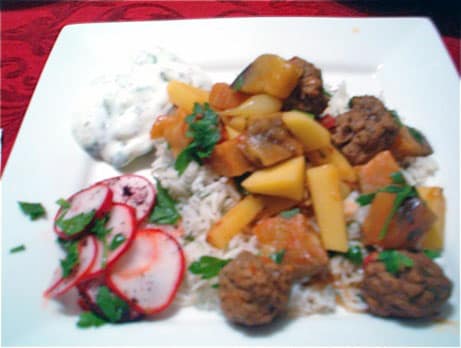 This meal was really good. We didn't care for the radish dish, but otherwise it was awesome! I made basmati rice with dill, yogurt salad with cucumbers and mint, and a Turkish recipe that I made once before and we LOVED! This is a good recipe to try to win over those alleged eggplant haters…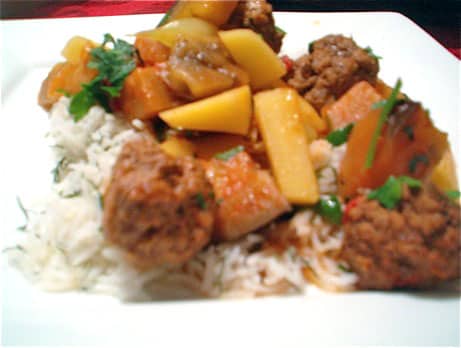 Sour Kebab (Eksili Kebap)
Binnur's Turkish Cookbook
Kofte:
500 gr lean ground beef
1 onion, grated
Salt
Pepper
3 tablespoons butter
13-14 pearl onions, peeled
1 medium eggplant, peel alternating strips of skin lengthwise, cut in medium sized chunks, soak in salty water for 15 minutes, squeeze
2 medium white potatoes, peeled, cut in medium sizes
1 tablespoon tomato paste
½ cup crushed tomato, in a can
1 or 1 1/2 cup warm water
3 tablespoons pomegranate paste or Grenadine syrup
Salt
Pepper
Knead all the Kofte ingredients. Create balls a bit larger than hazelnuts. Place them on the oven tray. Grill for about 4-5 minutes, stirring a few times. Do not burn!
Meanwhile saute the onion with butter for 2-3 minutes over medium heat. Add the eggplant and potatoes, then cook for about 8-10 minutes. Shake the pot to stir, don't mash with a spoon. Add the rest of the ingredients into the pot. Close the lid, cook until the potatoes are tender over medium-low heat. Make sure not to use a spoon to stir while cooking. Sprinkle chopped parsley all over before serving.
2-3 servings.
* You may add a few unripe grapes or sour cherries while it's cooking:)
Meal Ideas:
– Turkish Ramadan Pide, Hummus, Stuffed Peppers with Olive Oil and Almond Pudding.
MacGourmet Rating: 5 Stars
---
This side dish wasn't for us – I think that maybe we don't like radishes that much. If you're a radish lover, this one might be for you.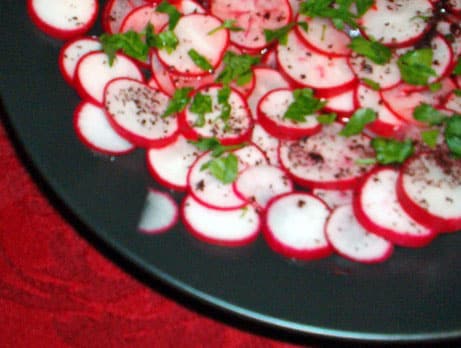 Radish Salad (Turp Salatasi)
Binnur's Turkish Cookbook
1 bunch radish, cut the stems and wash
1 tablespoon lemon juice
Sumac
Salt
Cut the radish in thin slices. Arrange on a service plate. Sprinkle lemon juice, sumac and salt all over. Leave it in the fridge for an hour and serve with any kind of Kebab.
MacGourmet Rating: 2 Stars