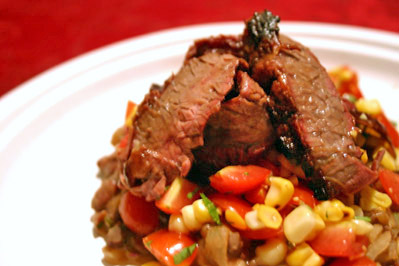 Grilled Skirt Steak with Corn Salsa and Black Beans
This post may contain affiliate links. Thank you for supporting the brands that keep me creative in my tiny kitchen!
This is the second time I've made this dish – it's really great! All three items work really well together, and it's perfect for grilling season.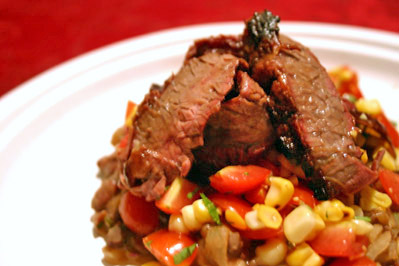 Grilled Skirt Steak with Corn Salsa and Black Beans
Every Day with Rachael Ray June-July 2007
Four servings
Prep Time: 20 min
Cook Time: 40 min
Extra-virgin olive oil
4 cloves garlic, finely chopped
1 small white onion, chopped
1 teaspoon ground cumin
Two 15.5-ounce cans black beans, rinsed and drained
One 12-ounce bottle Mexican or domestic beer
Salt and pepper
Two 1-pound skirt steaks
3 ears corn, shucked
1 pint grape or cherry tomatoes, chopped and juice reserved
Grated peel of 1 small lime, plus juice of 2 small limes
¼ cup chopped cilantro
1. Build a charcoal fire or preheat a gas grill. In a large, heavy saucepan, heat 2 tablespoons olive oil over direct high heat. Add the garlic, onion and cumin and cook until the onions begin to brown, about 10 minutes. Add the beans and beer; season with salt and pepper to taste and cook for 10 minutes, stirring occasionally. Mash the beans with the back of a fork and simmer, stirring frequently, until thickened, 5 to 10 minutes. Keep warm.
2. Brush the steak and corn with olive oil and season with salt. Grill over direct medium-high heat, flipping the steak halfway through and turning the corn occasionally, until the steak is medium-rare and the corn is blistered, 6 to 8 minutes. Transfer the meat to a platter to rest for 10 minutes before slicing thinly against the grain.
3. Using a kitchen towel, stand the cob on its end and run a small, sharp knife down the cob to remove the kernels. Break up the kernels and place in a glass or plastic bowl along with the tomatoes and their juices. Stir in half the lime juice and 2 tablespoons cilantro and season with salt. Set aside.
4. Season the reserved beans with the lime peel, remaining lime juice, remaining 2 tablespoons cilantro and salt and pepper to taste. Serve with the corn salsa and steak.
MacGourmet Rating: 5 Stars