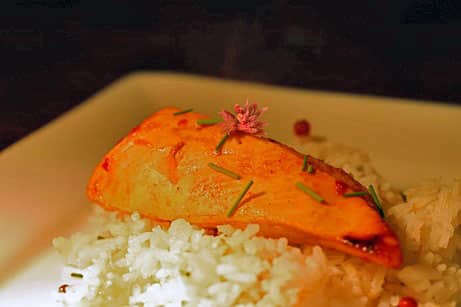 This post may contain affiliate links. Thank you for supporting the brands that keep me creative in my tiny kitchen!
This dish didn't look too pretty, but it was tasty! I broiled it – so I didn't get the nice char marks. I threw a chive blossom on there to try to add something. I'm also working on getting better lighting so my photos look better. The dining room light is terrible, and I don't get much natural light in my house. Plus it's usually dark by the time we eat dinner. But I digress…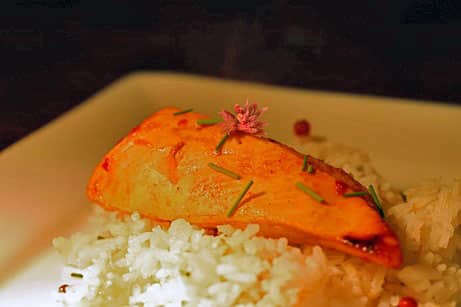 Indonesian Chicken
Cooking Light August 2001
"This recipe is one of my favorites because it's simple to make, tastes delicious, and is healthy. I have yet to find anyone who doesn't like it. I like to double the recipe and enjoy the leftovers. I prefer spicy food, so sometimes I'll add a dash of hot sauce. For friends who don't like spicy food, I just stick to the recipe. To get the best flavor, poke the chicken with a fork so it can really absorb the marinade." CL Reader
1 teaspoon crushed red pepper
1 tablespoon grated peeled fresh ginger
2 tablespoons fresh lime juice
2 tablespoons hoisin sauce
1 tablespoon low-sodium soy sauce
3 garlic cloves, minced
4 (4-ounce) skinless, boneless chicken breast halves
Cooking spray
Prepare grill.
Combine first 6 ingredients in a large zip-top plastic bag; add chicken to bag. Seal and marinate in refrigerator 30 minutes. Remove chicken from bag; discard marinade.
Place the chicken on grill rack coated with cooking spray, and grill for 5 minutes on each side or until the chicken is done.
Yield: 4 servings (serving size: 1 chicken breast half)
Nutritional notes:
CALORIES 158 (19% from fat); FAT 3.3g (sat 0.9g,mono 1.1g,poly 0.8g); IRON 1mg; CHOLESTEROL 73mg; CALCIUM 19mg; CARBOHYDRATE 3.8g; SODIUM 238mg; PROTEIN 26.9g; FIBER 0.3g
MacGourmet Rating: 4 Stars