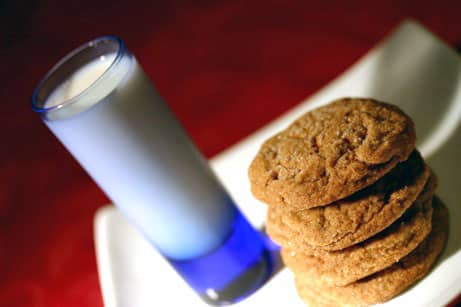 Cinnamon-Ginger Cookies (Biscotti Dello Canella-Zenzero)
This post may contain affiliate links. Thank you for supporting the brands that keep me creative in my tiny kitchen!
These cookies turned out really tasty! They're really soft, even the next day. I sent some to work with Dino, and his co-workers dubbed them "Ginger Clouds".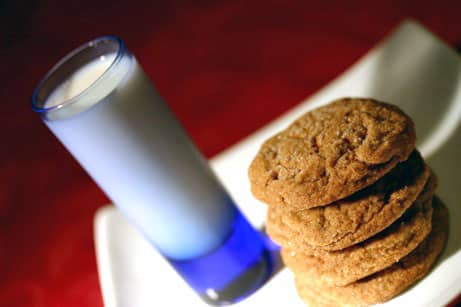 Cinnamon-Ginger Cookies (Biscotti Dello Canella-Zenzero)
Cooking Light September 2008
These drop cookies are terrific with a cup of coffee or tea—and easy for guests to eat while they play games. For the best flavor, make sure your spices are fresh; if they smell strong, they are good to use.
6.75 ounces all-purpose flour (about 1 1/2 cups)
1 ½ teaspoons ground cinnamon
¾ teaspoon baking soda
¼ teaspoon ground ginger
⅛ teaspoon ground cloves
⅛ teaspoon grated nutmeg
Dash of salt
6 tablespoons butter, softened
¾ cup sugar, divided
3 tablespoons fat-free milk
3 tablespoons molasses
1 teaspoon vanilla extract
Cooking spray
1. Preheat oven to 350°.
2. Weigh or lightly spoon flour into dry measuring cups; level with a knife. Combine flour and next 6 ingredients (through salt), stirring with a whisk.
3. Combine butter and 1/4 cup sugar in a medium bowl, and beat with a mixer at medium speed until light and fluffy (about 3 minutes). Beat in 3 tablespoons milk, molasses, and vanilla extract. Add flour mixture to butter mixture, and beat on low speed until blended. Shape dough into a 6-inch disk. Cover and chill for 30 minutes.
4. Lightly coat hands with cooking spray. Shape dough into 30 balls (about 2 teaspoons each). Place remaining 1/2 cup sugar in a shallow bowl. Roll dough balls in sugar; place 2 inches apart on baking sheets coated with cooking spray. Flatten balls slightly with the bottom of a glass. Bake at 350° for 12 minutes or until lightly browned. Cool on pans 4 minutes. Remove cookies from pans; cool completely on wire racks.
Yield: 30 cookies (serving size: 1 cookie)
Nutritional notes:
CALORIES 69 (31% from fat); FAT 2.4g (sat 1.5g,mono 0.6g,poly 0.1g); IRON 0.4mg; CHOLESTEROL 6mg; CALCIUM 9mg; CARBOHYDRATE 11.5g; SODIUM 54mg; PROTEIN 0.7g; FIBER 0.2g
MacGourmet Rating: 4 Stars