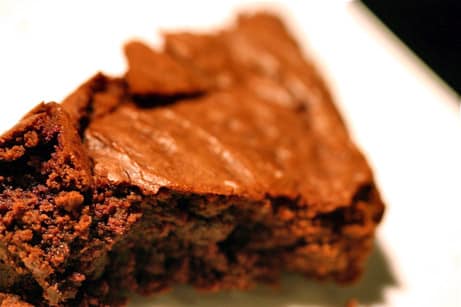 This post may contain affiliate links. Thank you for supporting the brands that keep me creative in my tiny kitchen!
This was my first time making brownies from scratch. I'm usually happy with a nice batch of (underbaked) brownies from a boxed mix. I thought these sounded interesting, and they were really good! The bourbon flavor is pretty mild, but we noticed that they definitely tasted different from a "regular" brownie.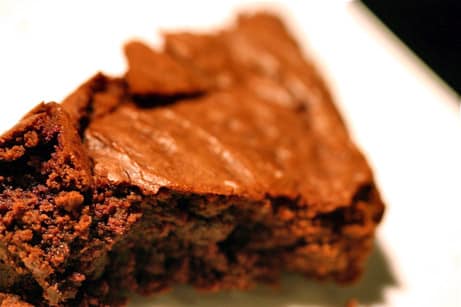 Bourbon Fudge Brownies
Cooking Light March 2003
Bourbon and vanilla enhance the rich chocolate flavor of these moist brownies. If you don't want to use bourbon, use hot milk in its place.
¼ cup bourbon
¼ cup semisweet chocolate chips
1 ½ cups all-purpose flour
½ cup unsweetened cocoa
1 teaspoon baking powder
½ teaspoon salt
1 ⅓ cups sugar
6 tablespoons butter, softened
½ teaspoon vanilla extract
2 large eggs
Cooking spray
Preheat oven to 350°.
Bring bourbon to a boil in a small saucepan; remove from heat. Add chocolate chips, stirring until smooth.
Lightly spoon flour into dry measuring cups, and level with a knife. Combine the flour, cocoa, baking powder, and salt, stirring with a whisk.
Combine sugar and butter in a large bowl; beat with a mixer at medium speed until well combined. Add vanilla and eggs; beat well. Add flour mixture and bourbon mixture to sugar mixture, beating at low speed just until combined.
Spread batter into a 9-inch square baking pan coated with cooking spray. Bake at 350° for 25 minutes or until a wooden pick inserted in the center comes out clean. Cool in pan on wire rack.
Yield: 20 servings
Nutritional notes:
CALORIES 148 (30% from fat); FAT 5g (sat 2.9g,mono 1.5g,poly 0.2g); IRON 1.5mg; CHOLESTEROL 31mg; CALCIUM 20mg; CARBOHYDRATE 23.2g; SODIUM 121mg; PROTEIN 2.2g; FIBER 1g
MacGourmet Rating: 4 Stars