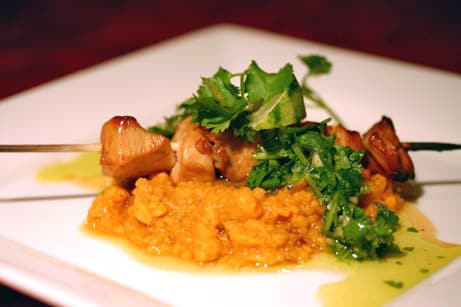 Mahogany Broiled Chicken with Smoky Lime Sweet Potatoes and Cilantro Chimichurri
This post may contain affiliate links. Thank you for supporting the brands that keep me creative in my tiny kitchen!
We saw this on a Food Network cook-off, and it was the winning recipe. I told Dino that the recipe would probably be on the website, and he was really anxious to try it. It was really good – the only thing I didn't really care for was the texture of the sweet potatoes. The flavors all work really well together, and it's an interesting combination.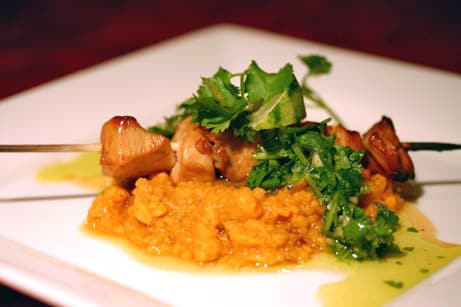 Mahogany Broiled Chicken with Smoky Lime Sweet Potatoes and Cilantro Chimichurri
Food Network Challenge – 46th National Chicken Cooking Contest and Camilla Saulsbury, Bloomington, Indiana, 1st Place
1 cup chopped cilantro leaves
6 tablespoons extra-virgin olive oil
3 large cloves garlic, minced
½ teaspoon salt, divided
¼ teaspoon pepper, divided
5 tablespoons dark brown sugar
3 tablespoons Dijon mustard
2 tablespoons bottled hoisin sauce
2 teaspoons balsamic vinegar
½ cup plus 1 1/2 teaspoons lime juice, divided
1 ½ lbs. boneless skinless chicken breast halves, cut in 1-inch cubes
2 large sweet potatoes, peeled and cut in 1/2-inch pieces
2 tablespoons unsalted butter
1 teaspoon chopped canned chipotle pepper
1 teaspoon adobo sauce (from canned chipotle)
¾ teaspoon ground cumin
½ teaspoon lime zest
Cilantro sprigs, for garnish
In a small bowl, mix together chopped cilantro, olive oil, minced garlic, 1/4 teaspoon of the salt and 1/8 teaspoon of the pepper; set aside.
In medium bowl, mix together brown sugar, mustard, hoisin sauce and vinegar. Reserve 2/3 of this mixture. To remainder, add 1/2 cup lime juice and stir in chicken; cover and refrigerate.
Place sweet potatoes in a heavy saucepan and cover with boiling water. Cook, covered, over medium-high heat until tender, about 15 minutes. Reserve 1/4 cup cooking liquid, then drain potatoes in colander. Return potatoes to reserved cooking water and add butter, chipotle pepper, adobo sauce, remaining 1 1/2 teaspoons lime juice, cumin, lime zest, remaining 1/4 teaspoon salt and remaining 1/8 teaspoon pepper. Mash potatoes.
Preheat the broiler. Thread chicken on 8 bamboo skewers that have been soaked in water for 30 minutes. Broil about 6 inches from heat, basting with reserved mahogany sauce until done, about 8 minutes. To serve, divide potatoes among 4 plates; top each with 2 skewers of chicken and drizzle with cilantro chimichurri sauce. Garnish with cilantro sprigs.
MacGourmet Rating: 4 Stars