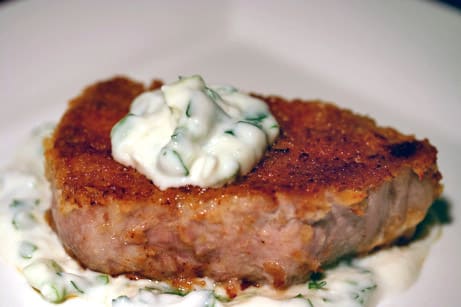 Panko-Crusted Pork Chops with Creamy Herb Dressing
This post may contain affiliate links. Thank you for supporting the brands that keep me creative in my tiny kitchen!
This dish was surprisingly good! I had no idea how much flavor the mix of crust and sauce would provide. I seared it in a cast iron skillet, and then transferred that to the oven, rather than dirtying more dishes. It does make a bit of a mess, since you have three different containers for the breading portion, but it's definitely worth it!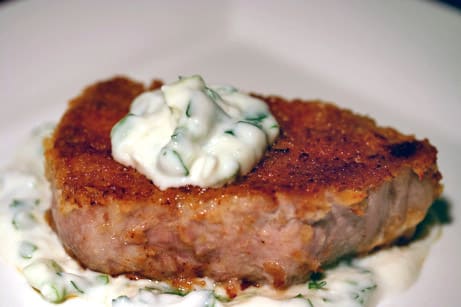 Panko-Crusted Pork Chops with Creamy Herb Dressing
Cooking Light October 2008
Dunk crunchy bites of breaded pork chops into the sour cream dressing for a kid-friendly serving.
Pork:
2 teaspoons all-purpose flour
¼ teaspoon salt
¼ teaspoon onion powder
¼ teaspoon ground cumin
¼ teaspoon chili powder
⅛ teaspoon ground red pepper
1 teaspoon low-sodium soy sauce
1 large egg white
⅓ cup panko (Japanese breadcrumbs)
2 (4-ounce) boneless center-cut loin pork chops (about 1/2 inch thick)
1 teaspoon canola oil
Cooking spray
Dressing:
1 tablespoon chopped green onions
1 tablespoon chopped fresh flat-leaf parsley
2 tablespoons fat-free sour cream
1 tablespoon fat-free milk
1 tablespoon reduced-fat mayonnaise
1 teaspoon cider vinegar
¼ teaspoon garlic powder
1. To prepare pork, preheat oven to 450°.
2. Combine first 6 ingredients in a shallow dish. Combine soy sauce and egg white in a medium bowl, stirring with a whisk. Place panko in a shallow dish.
3. Dredge pork in flour mixture; dip in egg mixture. Dredge in panko. Heat oil in a large nonstick skillet over medium-high heat. Add pork to pan; cook 1 minute on each side. Place pork on a baking sheet coated with cooking spray. Bake at 450° for 6 minutes or until done.
4. To prepare dressing, combine onions and the remaining ingredients. Serve dressing with pork.
Yield: 2 servings (serving size: 1 pork chop and about 2 tablespoons dressing)
Nutritional notes:
CALORIES 268 (32% from fat); FAT 9.5g (sat 2.2g,mono 4g,poly 1.8g); IRON 1.3mg; CHOLESTEROL 74mg; CALCIUM 72mg; CARBOHYDRATE 13.6g; SODIUM 608mg; PROTEIN 30g; FIBER 0.7g
MacGourmet Rating: 4 Stars