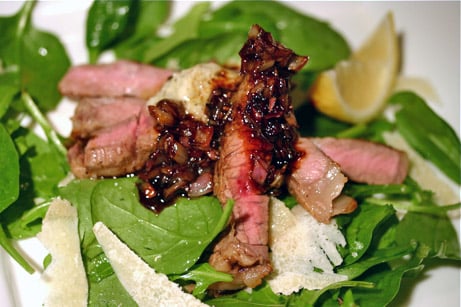 Steak with Parmesan Butter, Balsamic Glaze, and Arugula
This post may contain affiliate links. Thank you for supporting the brands that keep me creative in my tiny kitchen!
This recipe is divine! It's easy to prepare, and very elegant. All of the flavors work well together. This is definitely one that I'll make over and over again. Yum!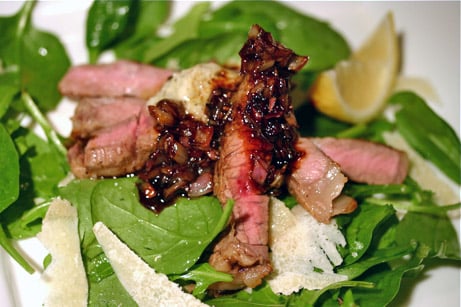 Steak with Parmesan Butter, Balsamic Glaze, and Arugula
Bon Appétit October 2008
Simple and sophisticated.
Yield: Makes 2 servings
Active Time: 20 minutes
Total Time: 20 minutes
2 tablespoons grated Parmesan cheese plus Parmesan cheese shavings
1 ½ tablespoons butter, room temperature
1 12-ounce rib-eye steak
1 teaspoon olive oil
¼ cup balsamic vinegar
¼ cup finely chopped shallots
½ teaspoon (packed) dark brown sugar
4 cups (lightly packed) arugula
2 large lemon wedges
Mix grated cheese and butter in small bowl. Season generously with salt and pepper; set aside. Sprinkle steak generously with salt and pepper. Heat oil in medium skillet over medium-high heat. Add steak; cook to desired doneness, about 4 minutes per side for medium-rare. Transfer to plate. Add vinegar, shallots, and sugar to skillet; boil until reduced to glaze, stirring constantly, about 1 minute. Divide arugula and Parmesan shavings between 2 plates. Squeeze lemon over. Slice steak; place atop arugula. Top steak with Parmesan butter. Drizzle lightly with glaze.
Nutritional notes:
Per serving: 505.27 Calories (kcal), 60.1 % Calories from Fat, 33.74 Fat (g), 14.77 Saturated Fat (g), 181.86 Cholesterol (mg), 10.27 Carbohydrates (g), 0.88 Dietary Fiber (g), 6.65 Total Sugars (g), 9.39 Net Carbs (g), 37.62 Protein (g)
MacGourmet Rating: 5 Stars