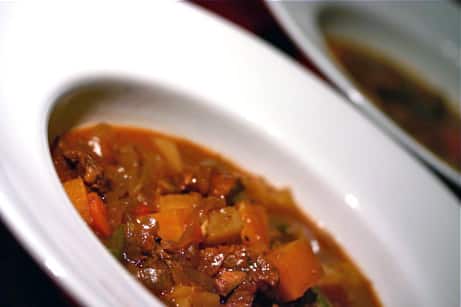 This post may contain affiliate links. Thank you for supporting the brands that keep me creative in my tiny kitchen!
The title of this recipe is a lie. We didn't care for it at all. It wasn't necessarily bad, but it definitely wasn't good. Eh…ya win some, ya lose some. The most unfortunate part is that I searched all over the place for a rutabaga, and I didn't end up liking the end result. It was my first time having rutabaga, and I still have half of it unused in the fridge – anyone have a recipe that will let its flavors shine? I'll be searching for one, but let me know if you have a recommendation!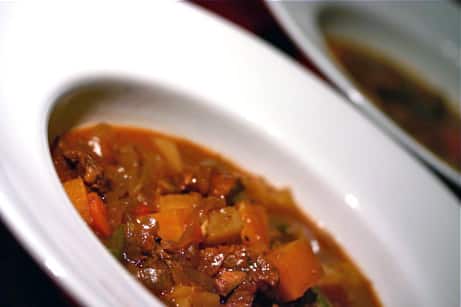 Best-Ever Beef Stew
Family Fun October 2002
Serving Size : 6
1 large onion, halved and thinly sliced
2 carrots, peeled and thinly sliced
2 large potatoes, peeled and cut into 1/2-inch chunks
1 cup rutabaga, peeled and diced (about 1/2 small rutabaga)
1 cup green beans, in bite-size pieces
1 lb. beef stew meat, cut in 1″ cubes
1 bay leaf
½ teaspoon dried thyme
1 clove garlic, crushed
3 cups beef stock
2 tablespoons brown sugar
¼ teaspoon salt
2 teaspoons Worcestershire sauce
pepper to taste
3 tablespoons all-purpose flour
2 teaspoons tomato paste
Put everything but the flour and the tomato paste in a slow cooker; stir to combine. Cover and cook on the low setting for 8 to 9 hours or on high for 4 to 5, until the beef is tender and the potatoes are just fork tender. Stir the stew once as it cooks, if possible. About 30 minutes before serving, transfer a ladleful of the broth to a small mixing bowl. Add the flour and the tomato paste and whisk until smooth. Stir the mixture into the stew and cook on high for the remaining half hour.
MacGourmet Rating: 2 Stars