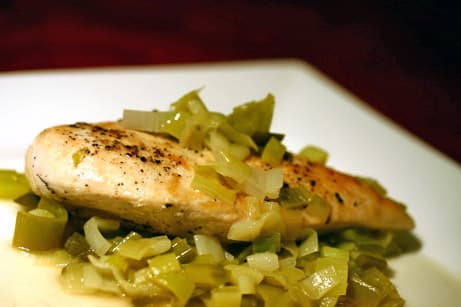 Too-Easy Chicken with Leeks
This post may contain affiliate links. Thank you for supporting the brands that keep me creative in my tiny kitchen!
This is one of our favorite quick chicken dishes. It really is too easy – the most involved part is making sure you get all of the sand out of the leeks.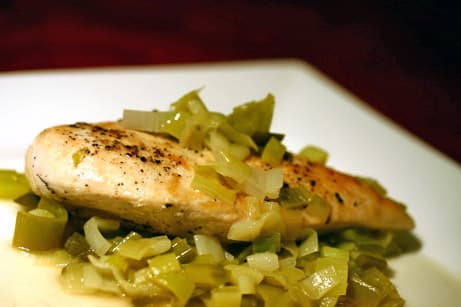 Too-Easy Chicken with Leeks
30-Minute Meals 2 – Rachael Ray
4 Servings
2 leeks
4 pieces boneless, skinless chicken breasts, (6 to 8 ounces each)
to taste salt and freshly ground black pepper
2 tablespoons extra virgin olive oil, (twice around the pan)
1 cup dry white wine
Trim leeks of tough green ends and roots. Split them lengthwise, then cut across into 1/2-inch slices. Place sandy slices of leeks into a colander. Run under cold water, separating the layers of each slice to free the grains of sand. Drain leeks very well and place within arm's reach of the stovetop.
Heat a large nonstick skillet over medium-high heat. Season chicken breasts with salt and pepper. Add olive oil to coat skillet, then add chicken breasts and brown, 3 to 4 minutes on each side, then transfer to a plate. Add a little more oil to the pan, then add leeks, and sauté, 5 minutes, until they become soft. Add 1 cup wine to the pan and nest chicken breasts down into leeks. Reduce heat to simmer for another 5 to 7 minutes. To serve, remove chicken from pan and slice on an angle. Fan and arrange sliced chicken breasts over a bed of sautéed leeks on each dinner plate or warm serving platter.
MacGourmet Rating: 5 Stars