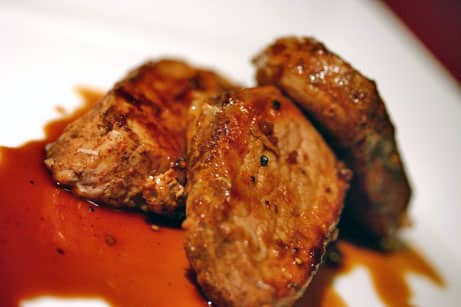 Spiced Pork with Bourbon Reduction Sauce
This post may contain affiliate links. Thank you for supporting the brands that keep me creative in my tiny kitchen!
The funny thing about the recipes my mom has been picking to cook for our weekly recipe is that she doesn't really drink alcohol (aside from an occasional fruity beverage), but she keeps picking recipes with booze in them! I love it – and I usually have whatever the recipe calls for in our liquor cabinet. OK, it's bigger than a cabinet…anyway, so she keeps having to buy big bottles of alcohol so that she can make these recipes. I guess I'll just have to find more recipes that use it so that she can use up those bottles. That, or I could pick recipes using different kinds so that she has a fully-stocked bar the next time we drive to visit her in Indiana.
This recipe is really good! I found myself swirling the pieces of pork in the sauce before each bite. It was really moist, and it's nice to be able to slice a pork tenderloin before cooking it so that it cooks faster. I served baked potatoes alongside. Yum!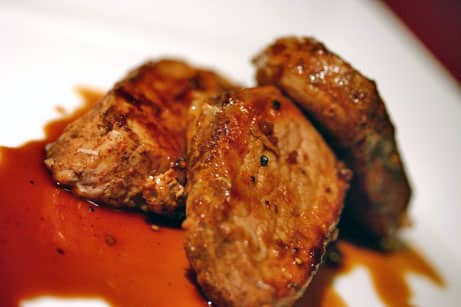 Spiced Pork with Bourbon Reduction Sauce
Cooking Light April 2006
Pair pork tenderloin with sweet 'n' tangy bourbon sauce for a delicious 20-minute dinner. Substitute chicken broth for bourbon (if you prefer), and serve with couscous or rice.
4 servings (serving size: 3 pork slices and 2 tablespoons sauce)
SAUCE:
½ cup bourbon
¼ cup packed dark brown sugar
¼ cup low-sodium soy sauce
3 tablespoons cider vinegar
1 ½ teaspoons bottled minced garlic
½ teaspoon black pepper
PORK:
½ teaspoon chili powder
¼ teaspoon ground cinnamon
⅛ teaspoon ground allspice
⅛ teaspoon salt
1 (1-pound) pork tenderloin, trimmed
Cooking spray
To prepare sauce, combine the first 6 ingredients in a medium saucepan; bring mixture to a boil. Reduce heat to medium; cook until reduced to 1/2 cup (about 11 minutes), stirring frequently. Remove from heat.
To prepare pork, combine chili powder, cinnamon, allspice, and salt, stirring well; rub evenly over pork. Cut pork crosswise into 12 slices.
Heat a large nonstick skillet over medium-high heat. Coat pan with cooking spray. Add pork to pan; cook 4 minutes on each side or until desired degree of doneness. Serve with sauce.
Nutritional notes: Calories: 277 (13% from fat) Fat: 4g (sat 1.4g,mono 1.8g,poly 0.5g) Protein: 24.9g Carbohydrate: 16.7g Fiber: 0.5g Cholesterol: 74mg Iron: 2.2mg Sodium: 673mg Calcium: 29mg
Big Flavors Rating: 5 Stars