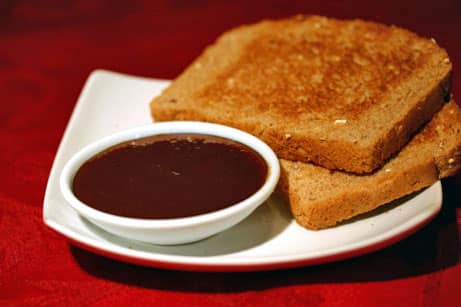 This post may contain affiliate links. Thank you for supporting the brands that keep me creative in my tiny kitchen!
This was another great way to use the apples that we picked. It smells heavenly, and with a little bit of work, you get some really tasty results. I plan to use some of the apple butter in muffins soon, too.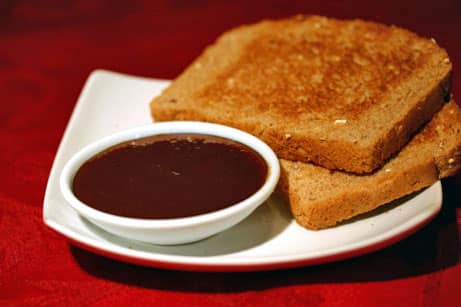 Overnight Apple Butter
Cooking Light October 2004
A mixture of apple varieties, rather than just one type, will produce apple
butter with rich, complex flavor in this slow cooker recipe. Good choices
include Esopus Spitzenburg, Granny Smith, Jonathan, Northern Spy, Rome,
Stayman, Winesap, and York. Enjoy the apple butter over toast or English
muffins, or serve it with pork chops or chicken.
1 cup packed brown sugar
½ cup honey
¼ cup apple cider
1 tablespoon ground cinnamon
¼ teaspoon ground cloves
⅛ teaspoon ground mace
10 medium apples, peeled, cored, and cut into large chunks (about 2 1/2
pounds)
Combine all ingredients in a 5-quart electric slow cooker. Cover and cook on
low 10 hours or until apples are very tender.
Place a large fine-mesh sieve over a bowl; spoon one-third of apple mixture
into sieve. Press mixture through sieve using the back of a spoon or ladle.
Discard pulp. Repeat procedure with remaining apple mixture. Return apple
mixture to slow cooker. Cook, uncovered, on high 1 1/2 hours or until
mixture is thick, stirring occasionally. Spoon into a bowl; cover and chill
up to a week.
Stovetop variation: Combine all ingredients in a Dutch oven. Cover and cook
over medium-low heat 1 hour or until apples are very tender, stirring
occasionally. Strain through a sieve as recipe instructs in Step 2. Return
mixture to pan. Cook, uncovered, over medium-low heat 15 minutes or until
thick, stirring frequently.
Yield: 4 cups (serving size: 1/4 cup)
Nutritional notes:
CALORIES 132(0.0% from fat); FAT 0.0g (sat 0.0g,mono 0.0g,poly 0.0g);
PROTEIN 0.1g; CHOLESTEROL 0.0mg; CALCIUM 18mg; SODIUM 6mg; FIBER 3.1g; IRON
0.7mg; CARBOHYDRATE 35.3g
MacGourmet Rating: 4 Stars