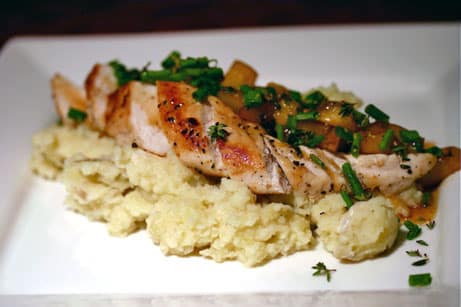 Chicken with Apples, Pears, and Camembert Mashed Potatoes
This post may contain affiliate links. Thank you for supporting the brands that keep me creative in my tiny kitchen!
Our apple stash is now almost gone, but I found another recipe to use up a few. The recipe calls for one, but I used two small ones. This is a great fall meal. It was my first time using camembert, and I really enjoyed it! It's pretty similar to brie. It makes the potatoes super creamy, and the flavor is really great. All of the components of this dish work really well together.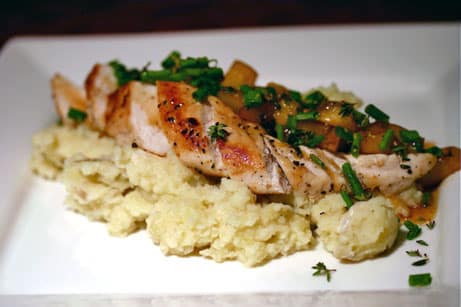 Chicken with Apples, Pears, and Camembert Mashed Potatoes
Every Day with Rachael Ray November 2008
2 lbs. small yellow fleshed potatoes, such as Yukon gold, cut into bite size pieces
Salt
1 tablespoon extra virgin olive oil
4 skinless, boneless chicken breast (about 1 1/2 lbs.)
Pepper
2 tablespoons butter, cut into small pieces
1 gala, honey crisp or golden delicious apple, peeled and cut into 1/2 inch pieces
1 bosc pear, peeled and cut into 1/2 inch pieces
3 pinches of nutmeg
1 tablespoon grated lemon peel plus 1 tablespoon juice
2 tablespoons honey
¼ – 1/3 cup half and half or milk
⅓ lb. ripe camembert cheese, cut into bite-size pieces
10 – 12 chives, chopped
2 tablespoons thyme leaves, finely chopped
In a deep pot, add potatoes and enough water to cover. Bring to a boil, salt the water and cook the potatoes until tender, 15 minutes. Drain.
In a large nonstick skillet, heat the olive oil over medium high heat. Season the chicken with salt & pepper, add chicken to the skillet and cook, turning once, until golden, 12 minutes or so. Transfer to a plate, cover with foil to keep warm.
In the same skillet, melt the butter over medium heat. Add the apple, pear and nutmeg; season with salt. Stir in the lemon juice for 3 minutes, then stir in the honey for 1 minute.
Mash the potatoes with the milk and cheese, season with salt & pepper. Slice the chicken breasts on an angle, arrange alongside the potatoes and top with the fruit. In a small bowl, combine the chives, thyme, lemon peel; sprinkle over the chicken and potatoes.
MacGourmet Rating: 4 Stars