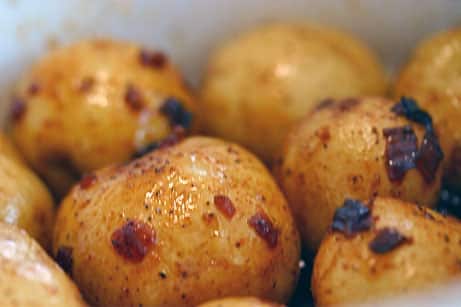 Gamja Jorim (Spicy Potatoes) | Pa-Muchim (Scallion Salad) | Korean Fruit Soup
This post may contain affiliate links. Thank you for supporting the brands that keep me creative in my tiny kitchen!
This month's Supper Club theme was Korean. Dino and I made a few dishes. The two side dishes were really spicy, so the dessert was a nice change with the cold fruit.
This potato dish was good. It was pretty spicy, but not too much. The sweet and salty flavors in the sauce were a nice compliment to the spice.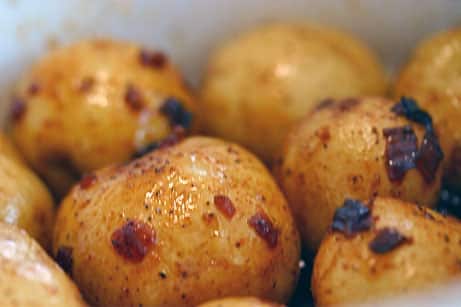 Gamja Jorim – Spicy Potatoes
Discovering Korean Cuisine: Recipes from the Best Korean Restaurants in Los Angeles – Allisa Park
½ pound bintje potatoes (or yukon gold potatoes), cleaned and unpeeled
2 tablespoons soy sauce
2 tablespoons water
2 tablespoons corn syrup
1 tablespoon olive oil
¼ teaspoon red pepper powder
¼ teaspoon black pepper
1 teaspoon minced garlic
1 scallion, roots trimmed, finely chopped
Put soy sauce, water, corn syrup, olive oil, potatoes and scallions in a saucepan over high heat and cover with a lid. When the mixture starts to boil, turn down the heat to medium and continue to cook until the potatoes are almost cooked (about 3-4 minutes; poke the potatoes with a fork to test – they should be just a little stiff). Add the red pepper powder, black pepper, and garlic on top (do not stir; just leave them on top of the potatoes). When the potatoes are fully cooked, turn off the heat and mix everything together. Serve as a side dish.
MacGourmet Rating: 4 Stars
---
This salad was way too spicy. I like spicy, but this was pretty unbearable. I was out of sesame seeds, so I substituted black sesame seeds. There was just way too much cayenne for it to be enjoyable.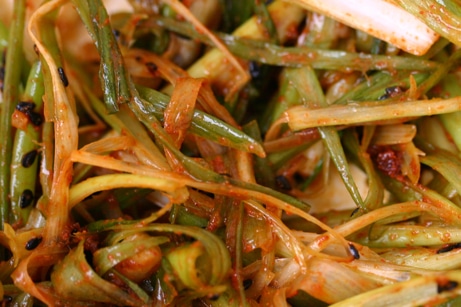 Pa-Muchim – Scallion Salad
Discovering Korean Cuisine: Recipes from the Best Korean Restaurants in Los Angeles – Allisa Park
5 scallions
1 teaspoon red pepper powder
⅛ teaspoon minced garlic
¼ teaspoon soy sauce
¼ teaspoon granulated sugar
½ teaspoon Asian sesame oil
Wash each scallion and pat dry with a paper towel. Trim both ends of each scallion, then cut into 3-inch pieces and then finely cut again lengthwise (scallions are very slippery, so use caution while cutting). Put the scallions in a bowl and add red pepper powder, garlic, soy sauce, sugar, sesame oil, and sesame seeds, and toss to mix. Transfer to a serving plate.
MacGourmet Rating: 2 Stars
---
Dessert was refreshing. It wasn't overly sweet, and the cinnamon and pine nuts made for an interesting combination on top. It wasn't my favorite, but it was a nice end to the meal.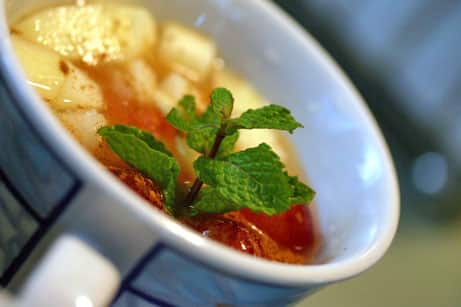 Korean Fruit Soup
CLBB Kayla
This fruit soup is a gorgeous feast of colors, fragrance, and flavors. The fruit is laced with essences of aromatic herbs, spices, and nuts. It should he prepared several hours ahead, or even the day before.
½ cup honey
1 ounce ginger, peeled and grated
2 tablespoons freshly squeezed lemon juice
3 cups grapefruit juice
2 tablespoons ch'ongju (rice wine) or vermouth
1 apple, peeled, cored, quartered,
and cut into 1/2-inch dice
1 Korean or Asian pear, peeled, cored,
quartered, and cut into 1/2-inch dice
15 seedless grapes
1 peach, peeled, pitted, and cut into 1/2-inch dice
1 cup diced seeded watermelon
1 cup strawberries, halved
1 orange, peeled and sectioned
1 tablespoon pine nuts
1 teaspoon ground cinnamon
6 sprigs mint leaves, for garnish
To make the soup base, in a large non-reactive bowl, combine 3 cups of water with the honey, ginger, lemon juice, grapefruit juice, and ch'ongju. Stir, blending well. In a punch bowl, add the apple, pear, grapes, peach, watermelon, strawberries, and orange and toss lightly to mix. Add the soup and stir lightly with a wooden spoon. Wrap the bowl with plastic wrap and refrigerate to chill.
Just before serving, sprinkle the pine nuts and cinnamon over the soup. Garnish with the mint leaves. Serve at the center of the table or in individual bowls.
MacGourmet Rating: 3 Stars
The highlight of the meal to me was the dumpling recipe that Dana made. I'm going to have to try to make it at home (once we get a deep fryer) and I'll post it here 🙂