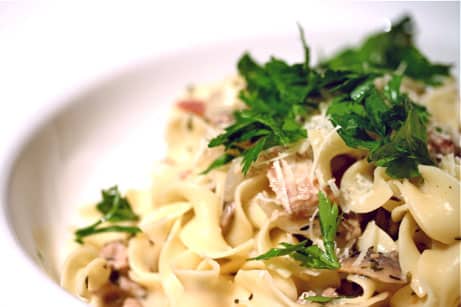 Skillet Turkey Noodle Casserole
This post may contain affiliate links. Thank you for supporting the brands that keep me creative in my tiny kitchen!
This recipe came from one of the members of the CLBB – it's a healthy and tasty recipe, and it's really filling. We really enjoyed having this tonight!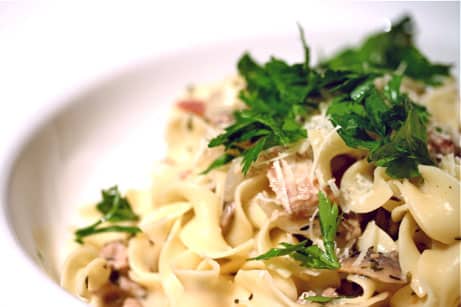 Skillet Turkey Noodle Casserole
JeAnne Swinley with inspiration from Rachael Ray
2 cups extra wide dry egg noodles
Salt
1 slice bacon chopped (I removed some of the fat)
8 ounces raw ground turkey breast
1 cup sliced cremini mushrooms
1 medium onion, chopped
fresh Black pepper
2 teaspoons dried thyme or poultry seasoning
⅓ cup sherry
⅓ cup chicken stock
⅓ cup of low fat sour cream
pinch freshly grated nutmeg
¼ cup parmesan
fresh parsley
Bring a large pot of water to a boil for your egg noodles. When it boils,
salt the water and cook noodles to al dente.
Preheat a large, deep skillet over medium high heat. Add bacon or turkey
bacon. Render the bacon fat 2 to 3 minutes, until bacon begins to brown at
edges. Add meat and brown it, crumbling it with a wooden spoon. Move the
meat over to 1 side of the pan and add mushrooms and onions to the opposite
side. Cook mushrooms and onions 3 to 5 minutes, then combine the meat with
veggies and season the mixture liberally with salt and pepper, then sprinkle
in the ground thyme or poultry seasoning. Cook another 5 minutes then add
wine. Deglaze the pan, lifting up pan drippings and bits. Stir in stock and
bring to a bubble, then stir in cream and reduce the heat to low. Add nutmeg
to sauce and stir. Taste to adjust seasonings.
Stir in noodles, dish out on plates and sprinkle each plate with 2TBSP of
parmesan and garnish with fresh parsley.
Serves two.
MacGourmet Rating: 4 Stars