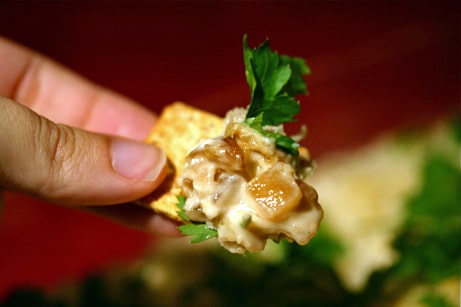 Caramelized Sweet Onion Dip & Arugula Salad with Goat Cheese, Bacon, and Balsamic-Fig Dressing
This post may contain affiliate links. Thank you for supporting the brands that keep me creative in my tiny kitchen!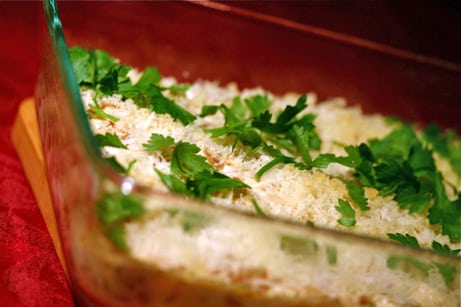 This dip is really good. The sweetness from the onions really shines in this dish.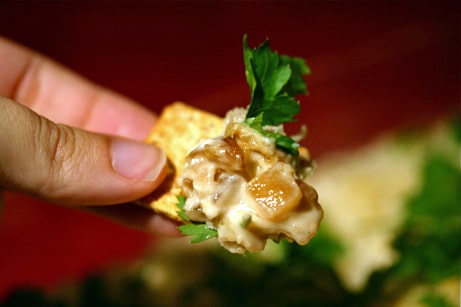 Caramelized Sweet Onion Dip
Cooking Light November 2008
Caramelizing enhances the onion's inherent sweetness. If you can't find sweet onions, substitute two large Spanish onions and add a tablespoon of sugar. This dip is best served warm. If time is tight, you can caramelize the onions (step 2) earlier in the day; combine with the other ingredients and bake just before guests arrive. Serve with a crunchy dipper like melba toast.
1 tablespoon butter, divided
3 cups diced Rio or other sweet onion (about 2 large onions)
¼ teaspoon kosher salt, divided
½ teaspoon minced garlic
1 cup reduced-fat mayonnaise
½ cup light sour cream
½ teaspoon garlic powder
¼ teaspoon freshly ground black pepper
¼ teaspoon Worcestershire sauce
Cooking spray
⅓ cup whole wheat panko (Japanese breadcrumbs)
1 tablespoon chopped fresh parsley
1. Preheat oven to 350°.
2. Melt 1 1/2 teaspoons butter in a large skillet over medium-high heat. Add onion and 1/8 teaspoon salt to pan; cook 15 minutes or until tender, stirring occasionally. Add garlic; cook 10 minutes or until onion is golden brown and very tender, stirring occasionally. Remove from heat; cool 5 minutes.
3. Combine the remaining 1/8 teaspoon salt, mayonnaise, and next 4 ingredients (through Worcestershire sauce) in a medium bowl, stirring until smooth. Stir in onion mixture. Transfer mixture to a 1-quart baking dish coated with cooking spray.
4. Melt remaining 1 1/2 teaspoons butter. Combine melted butter and panko. Sprinkle panko mixture evenly over onion mixture. Bake at 350° for 15 minutes or until thoroughly heated and bubbly. Sprinkle with parsley. Serve hot.
Yield: 10 servings (serving size: about 1/4 cup)
Nutritional notes:
CALORIES 86 (55% from fat); FAT 5.3g (sat 1.3g,mono 0.3g,poly 1.6g); IRON 0.2mg; CHOLESTEROL 7mg; CALCIUM 15mg; CARBOHYDRATE 11.4g; SODIUM 288mg; PROTEIN 1.3g; FIBER 0.7g
MacGourmet Rating: 4 Stars
This salad has so many things I love in it – there's no way it would be bad! I thought it was interesting the the dressing has chicken broth in it…but it works!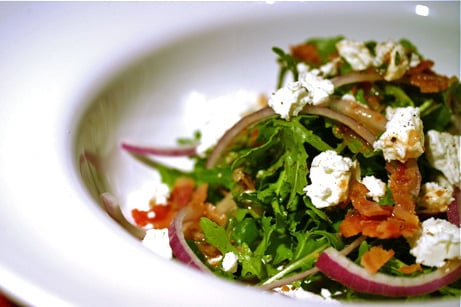 Arugula Salad with Goat Cheese, Bacon, and Balsamic-Fig Dressing
Cooking Light November 2008
Mix the tangy-sweet dressing up to three days ahead, and refrigerate.
Dressing:
3 tablespoons balsamic vinegar
3 dried Black Mission figs, chopped
3 tablespoons water
2 tablespoons fat-free, less-sodium chicken broth
2 tablespoons extra-virgin olive oil
1 ½ teaspoons honey
½ teaspoon minced shallots
¼ teaspoon chopped fresh thyme
Salad:
8 cups trimmed arugula (about 4 ounces)
¼ cup thinly sliced red onion
¼ teaspoon freshly ground black pepper
⅛ teaspoon salt
3 center-cut bacon slices, cooked and crumbled
2 tablespoons crumbled goat cheese
1. To prepare dressing, combine balsamic vinegar and figs in a small saucepan over medium-high heat; bring to a boil. Cover, remove from heat, and let stand 15 minutes. Combine vinegar mixture, 3 tablespoons water, and next 5 ingredients (through thyme) in a blender; process until smooth.
2. To prepare salad, place 1 1/3 cups arugula on each of 6 plates. Divide onion evenly among plates. Drizzle about 3 tablespoons dressing over each serving; sprinkle evenly with pepper and salt. Sprinkle evenly with bacon. Top each serving with 1 teaspoon goat cheese. Serve immediately.
Yield: 6 servings
Nutritional notes:
CALORIES 91(45% from fat); FAT 4.5g (sat 1.3g,mono 2.4g,poly 0.6g); IRON 0.9mg; CHOLESTEROL 5mg; CALCIUM 88mg; CARBOHYDRATE 10.9g; SODIUM 147mg; PROTEIN 3g; FIBER 1.7g
MacGourmet Rating: 4 Stars