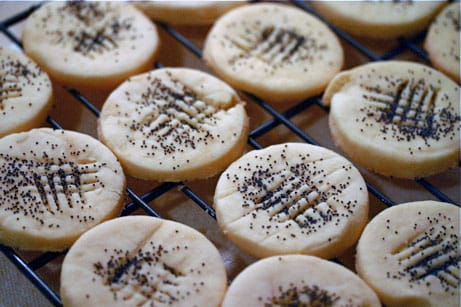 Rice Flour Cookies (Nan-e Berenji)
This post may contain affiliate links. Thank you for supporting the brands that keep me creative in my tiny kitchen!
I've been searching for a recipe for these Persian cookies from my childhood for years now, and I finally found one that looked right…and it was! These cookies are wonderful! They're really different – not too sweet, super crumbly, delicate…and the hint of rose from the rose water is divine. I made some of them as the recipe directed, and some in smaller ball shapes to be like the ones I used to eat. They're easier to eat without crumbling, too. It's worth noting that this dough is impossible to roll out straight out of the refrigerator. I had to let mine come up to room temperature to work with it. Next time, I'm going to try to make them without chilling the dough overnight.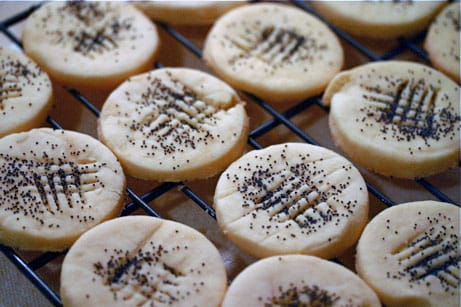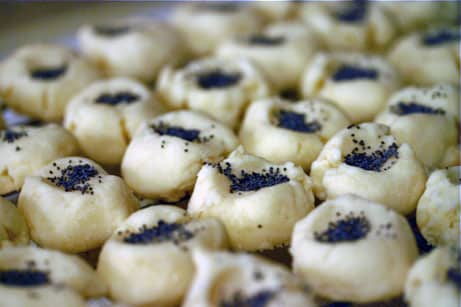 Rice Flour Cookies (Nan-e Berenji)
Persian Cooking: A Table of Exotic Delights – Nesta Ramazani
2 cups butter, (or 1 cup butter and 1 cup margarine)
¾ cup confectioner's sugar
2 eggs, separated
4 cups very fine rice flour
2 tablespoons rose water, (or 2 teaspoons vanilla extract)
several tablespoons poppy seeds
Beat the butter well. Add the confectioners sugar gradually, beating it in thoroughly. Add the egg yolks one at a time, beating continuously. Stir in the flour until well blended. Add the rose water. Beat the egg whites until stiff, and fold them into the dough. Cover and refrigerate the dough for 24 hours.
Roll the dough out between waxed paper to a thickness of 1/4 inch. Use a round cookie cutter to cut out the cookies. Score the tops with the tines of a fork or imprint them with a pattern. Sprinkle with poppy seeds. Bake on a greased cookie sheet in a 325°F. oven for 15 to 20 minutes. These cookies crumble very easily. They should remain white in color.
Some Persian women will make their own rice flour at home by soaking fine quality rice in cold water for 1 to 2 days, changing the water several times, and then draining the rice, pounding it to a pulp, pressing it through a sieve, drying it, and then pressing it through a finer sieve.