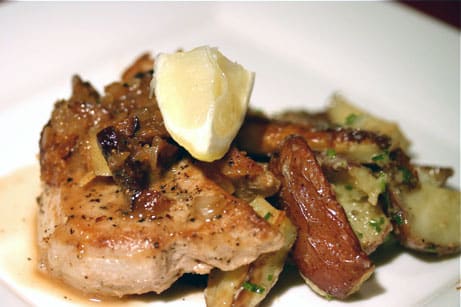 New Potatoes with Roasted Garlic Vinaigrette | Boneless Pork Chops with Ginger, Fig, and Lemon Compote
This post may contain affiliate links. Thank you for supporting the brands that keep me creative in my tiny kitchen!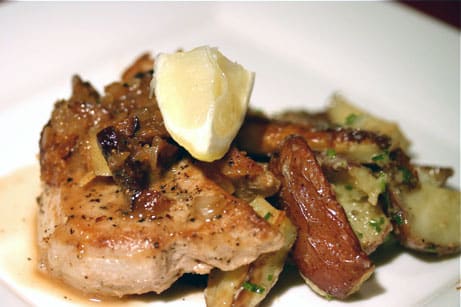 This was a really good meal! The potato dish was unbelievably good! The potatoes get nice and caramelized from roasting, and they go so well with the roasted garlic vinaigrette. This will definitely be repeated here! If we rated dishes up to 6 stars, this recipe would definitely get all 6!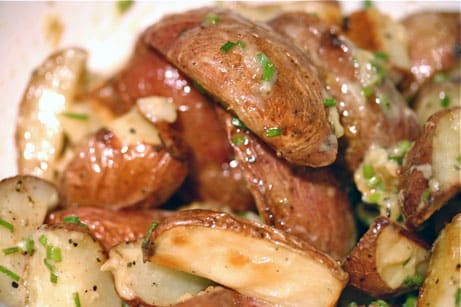 New Potatoes with Roasted Garlic Vinaigrette
Cooking Light November 2008
While raw garlic is pungent, roasted garlic is sweet and mild with a buttery texture. Roast extra garlic for our Roasted Garlic Pizza. Serve this warm twist on potato salad as a side dish with steak or roast chicken.
3 tablespoons olive oil, divided
1 ¼ teaspoons kosher salt, divided
½ teaspoon freshly ground black pepper, divided
7 garlic cloves, unpeeled
3 lbs. small red potatoes, quartered
3 tablespoons minced chives
2 tablespoons white wine vinegar
2 teaspoons Dijon mustard
1. Preheat oven to 400°.
2. Combine 1 1/2 tablespoons olive oil, 1/2 teaspoon salt, 1/4 teaspoon pepper, garlic, and potatoes in a roasting pan or jelly-roll pan; toss well to coat. Bake at 400° for 1 hour and 10 minutes or until tender, stirring after 35 minutes. Cool 10 minutes.
3. Squeeze garlic cloves to extract pulp. Discard skins. Combine garlic pulp, remaining 1 1/2 tablespoons oil, remaining 3/4 teaspoon salt, remaining 1/4 teaspoon pepper, chives, vinegar, and mustard in a large bowl; stir well with a whisk. Add potatoes to bowl; toss well to coat.
Yield: 8 servings (serving size: about 3/4 cup)
Nutritional notes:
CALORIES 170 (28% from fat); FAT 5.3g (sat 0.8g,mono 3.7g,poly 0.6g); IRON 1.3mg; CHOLESTEROL 0.0mg; CALCIUM 23mg; CARBOHYDRATE 28.3g; SODIUM 335mg; PROTEIN 3.4g; FIBER 3g
MacGourmet Rating: 5 Stars
---
The pork dish wasn't as good as the potatoes, but still good. I was careful not to overcook the pork – I noticed that some of the notes from the website said that the chops got tough. So I cooked it for less time. I also forgot to add the butter at the end…but I don't think it made too much difference. The lemon and fig really work well together.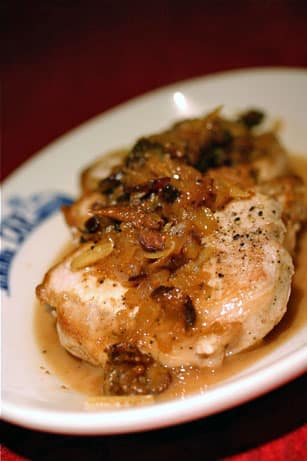 Boneless Pork Chops with Ginger, Fig, and Lemon Compote
Gourmet December 1998
1 lemon
1 medium shallot
4 dried figs (preferably Calimyrna)
two 1 1/4-inch-thick boneless pork loin chops (about 3/4 pound)
1 tablespoon olive oil
1 teaspoon grated peeled fresh gingerroot
⅓ cup water
2 tablespoons dry white wine
1 tablespoon unsalted butter
Garnish: lemon slices
With a vegetable peeler cut 3 lengthwise strips of zest from lemon and cut strips crosswise into enough very thin slices to measure 1 packed teaspoon. Squeeze 2 tablespoons juice from lemon. Mince shallot and cut figs into 1/4-inch-thick slices.
Pat pork dry and season with salt and pepper. In a skillet heat oil over moderately high heat until hot but not smoking and sauté pork until browned, about 1 minute on each side. Transfer pork to a plate and in fat remaining in skillet cook shallot and gingerroot, stirring, until fragrant, about 30 seconds. Add pork, water, wine, zest, lemon juice, and figs and simmer, covered, 10 minutes, or until pork is just cooked through.
Transfer pork to 2 plates and if fig mixture is too liquid boil until reduced to a sauce-like consistency, about 1 minute. Whisk butter into fig mixture until incorporated.
Garnish pork with compote and serve with lemon slices.
MacGourmet Rating: 4 Stars