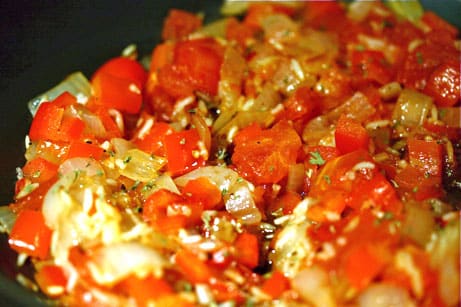 Red Pepper Dish (Kirmizi Biber Yemegi) | Chicken with Eggplants and Chickpeas (Tavuklu Dograma)
This post may contain affiliate links. Thank you for supporting the brands that keep me creative in my tiny kitchen!
This dish was amazing! It was different from anything else I've ever had, and it was delicious. We scooped it with pita bread. It's really interesting to have a little rice in there to add some substance, and the pomegranate is so tasty on top. I substitute pomegranate molasses for paste in all of Binnur's recipes, as I've never come across the paste form. It's great!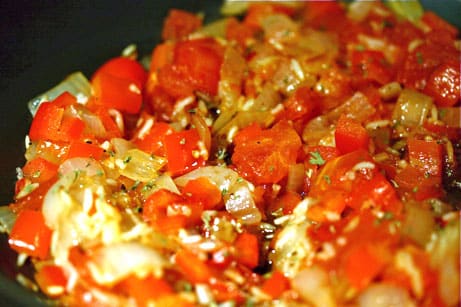 Red Pepper Dish (Kirmizi Biber Yemegi)
Binnur's Turkish Cookbook
1 red bell pepper, diced
1 small onion, chopped
3 tablespoons extra virgin olive oil
2 tablespoons rice, rinsed, drained
2 large tomato, peeled, diced
½ teaspoon crushed red pepper
Salt
Pepper
1 teaspoon pomegranate paste or Grenadine syrup
Saute the onion with olive oil until it's softened. Add the red pepper, rice, tomatoes, crushed pepper, salt and pepper. Put the lid on. Do not open while its cooking. Cook for 20 minutes under medium heat. Turn the heat off, add pomegranate paste, stir.
Sprinkle some chopped parsley all over. Serve warm or at room temperature with Turkish Bread.
You can have this vegetarian dish as a main course or as a side dish.
* You can use lemon juice instead of pomegranate paste.
MacGourmet Rating: 5 Stars
---
The main course was also tasty. I'm still not totally into eggplant, but I like to try it in different dishes. The chicken gets really tender in this dish, which is really nice.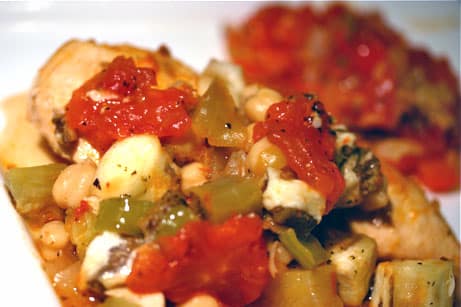 Chicken with Eggplants and Chickpeas (Tavuklu Dograma)
Binnur's Turkish Cookbook
2 pieces chicken breast, skinless, boneless
Salt
Pepper
1 ½ tablespoons butter
15-16 pearl onions, peeled
¼ cup crushed tomatoes, in can
¾ cup water, warm
½ cup chickpeas, in can, rinsed
1 medium size eggplant, peeled, cut in bite sizes, soak in salty water for 15 min then squeeze
1-2 garlic cloves, smashed with salt
2 tablespoons lemon juice
½ teaspoon crushed pepper
1 large tomato, peeled, sliced
1 cubanelle pepper, seeds discarded, cut in medium sized chunks
½ cup water, warm
Salt
pepper
Sauce:
2 tablespoons extra virgin olive oil
1 teaspoon mint
Season the chicken pieces with salt and pepper. Fry both sides with butter and pearl onions for about 4-5 minutes in a medium sized pot. Pour 1/4 cup crushed tomato and 3/4 cup warm water all over. Cook for about 20 minutes with the lid closed over medium heat.
Add the chickpeas, eggplants, garlic and lemon juice. Arrange the tomato slices over the top side by side, and then the cubanelle peppers over the tomatoes. Pour in 1/2 cup of water in the pan from the side, cover the lid. Cook for about 30 minutes over medium heat.
Put the dish on a service plate. Lastly, put the olive oil and mint in a frying pan and heat it up, immediately pour all over the dishes.
2 servings.
Meal Ideas:
– Rustic Red Lentil Soup, Pilaf with Orzo, Strawberry Compote and Tahini Bread with Turkish Coffee.
MacGourmet Rating: 4 Stars