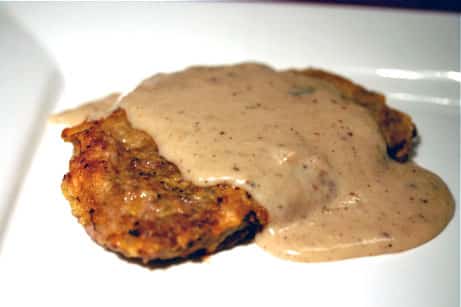 Chicken-Fried Steak with Gravy
This post may contain affiliate links. Thank you for supporting the brands that keep me creative in my tiny kitchen!
Dino loves chicken fried steak, so I decided to try out this recipe. I broke out the cast iron skillet for this one, because really…how can you make chicken fried anything without a cast iron skillet? So it turned out really well! I'm thinking about pounding the steak with a meat tenderizer next time, as this cut is a little tough. And meals slathered in gravy aren't usually pretty, but they sure taste good! It isn't too unhealthy either…I used 1% milk and it doesn't take much butter. We had baked sweet potatoes and corn on the cob on the side – and then the food coma ensued…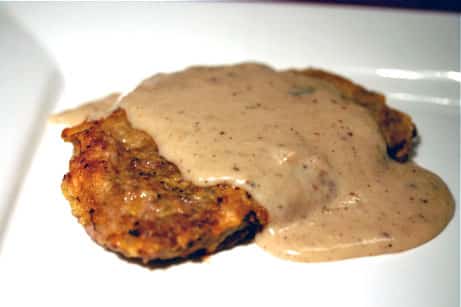 Chicken-Fried Steak with Gravy
Every Day with Rachael Ray November 2008
SERVES 4
Prep Time: 15 min
Cook Time: 15 min
4 beef round steaks (1 1/2 pounds), patted dry
Salt and pepper
1 cup flour
2 large eggs
½ cup vegetable oil
2 tablespoons butter
1 cup chicken broth
¾ cup milk
1. Season the steaks with salt and pepper. Place 3/4 cup flour in a shallow bowl. In another shallow bowl, beat the eggs. Coat the steaks with the flour, then the egg, letting any excess drip off. Coat again with the flour.
2. In a large, heavy skillet, heat 1/4 cup oil over medium heat. Add 2 steaks and cook, turning once, until golden, 5 to 6 minutes. Drain on paper towels. Wipe out the pan. Repeat with the remaining 1/4 cup oil and 2 steaks.
3. Pour off the excess oil from the pan. Add the butter and melt over medium heat. Whisk in the remaining 1/4 cup flour for 1 minute. Gradually whisk in the chicken broth and milk until thickened, about 2 minutes. Season with salt and pepper, then spoon over the steaks.
MacGourmet Rating: 5 Stars