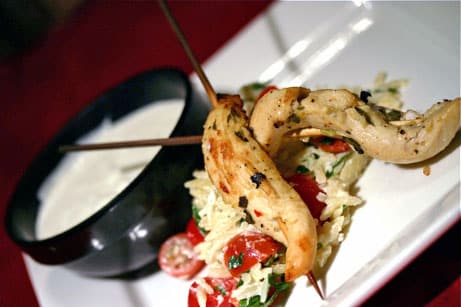 Chicken Souvlaki Sticks with Yogurt Dipping Sauce | Orzo with Feta and Tomatoes
This post may contain affiliate links. Thank you for supporting the brands that keep me creative in my tiny kitchen!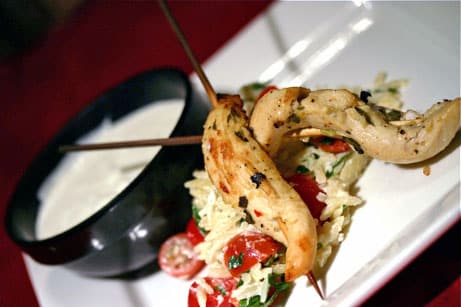 I saw Rachael Ray make this on 30 Minute Meals, and I thought it looked awesome! And it really was! The chicken gets so much flavor from this marinade. I love souvlaki. I didn't grill mine, and I did think it was funny that the recipe listed from that particular show says it takes over an hour – that's assuming you were soaking skewers to grill over a flame. So if you're really making it as directed…this wouldn't be a 30 minute meal.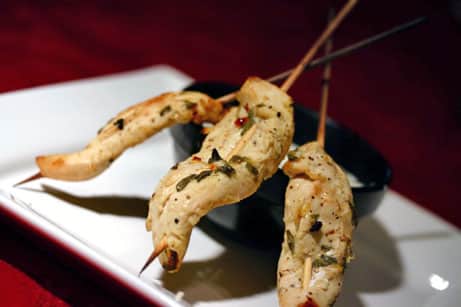 Chicken Souvlaki Sticks with Yogurt Dipping Sauce
Rachael Ray
Cook Time 8 min
Level: Easy
Yield: 4 servings
Times:
Prep 20 min
Inactive Prep 40 min
Cook 8 min
Total: 1 hr 8 min
16 bamboo skewers
3 lemons
2 tablespoons finely chopped fresh oregano leaves
½ teaspoon crushed red pepper flakes
¼ cup extra-virgin olive oil
4 cloves garlic, minced
Salt and freshly ground black pepper
16 chicken tenders, about 1 1/2 pounds
2 cups Greek style yogurt
½ seedless cucumber, peeled and grated
½ teaspoon ground cumin
Soak skewers in water for about 30 minutes.
Preheat grill or grill pan to medium-high heat.
Combine the zest and juice of 2 lemons, oregano, red pepper flakes and olive oil in a dish. Paste the garlic by mashing it with coarse salt then add 3/4 of it to the marinade, reserving some for dipping sauce. Add chicken tenders to the marinade and season with salt and pepper, turn in marinade to coat, let stand 10 minutes. Thread tenders on damp skewers and cook 7 to 8 minutes, turning once, until firm and juices run clear.
While skewers cook, combine yogurt with juice of remaining lemon, remaining clove of garlic, grated cucumber, cumin and salt, to taste. Divide the dip among 4 ramekins.
Serve 5 skewers per person with dipping sauce alongside.
MacGourmet Rating: 5 Stars
---
This recipe has tons of flavor! It's really tasty, but make sure you don't make the mistake that I made – it's half a pound of orzo, not half a cup. Oops! I realized I must've read it wrong when I saw how little it cooked up to – Rachael is notorious for her overwhelmingly large portions, and this made more like 2 1/2 servings. So next time, I'll do the right amount, and it'll be perfect!
She also showed a tomato slicing trick on the show – and it saved a ton of time!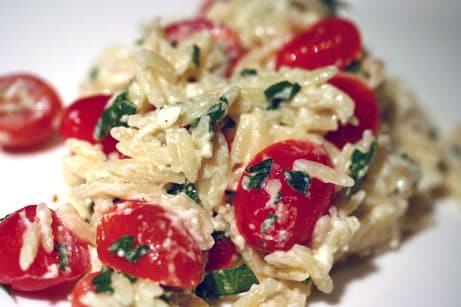 Orzo with Feta and Tomatoes
Rachael Ray
Cook Time 10 min
Level: Easy
Yield: 4 servings as a side dish
Times:
Prep 10 min
Cook 10 min
Total: 20 min
½ lb. orzo
Salt
2 tablespoons butter
1 cup feta cheese crumbles
A handful of parsley leaves, chopped
½ pint grape tomatoes, halved
Freshly ground black pepper
Heat water in large sauce pot to boil and add pasta, cook to al dente.
Melt butter in the pot while still hot and combine with feta. Add cooked pasta to feta butter and toss with parsley and tomatoes, season with a little pepper.
MacGourmet Rating: 5 Stars