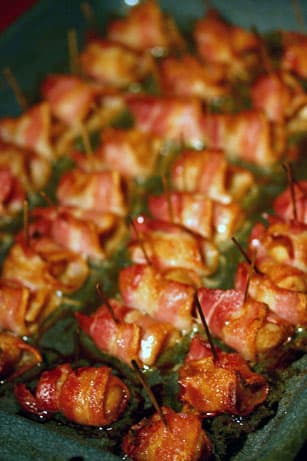 Bacon-Wrapped Water Chestnuts | Red Curry-Lime Chicken Wings | Thai Chicken Pizza | Mint Chocolate Chip Pudding Cake
This post may contain affiliate links. Thank you for supporting the brands that keep me creative in my tiny kitchen!
We had a friend in town, and I told him that he could pick anything off of my blog for dinner. He picked a pizza, but I couldn't only make that. So I added a couple of my tried and true appetizers and a quick dessert. Yum!
These are really easy to make, and they taste so good. Bacon makes everything better, right?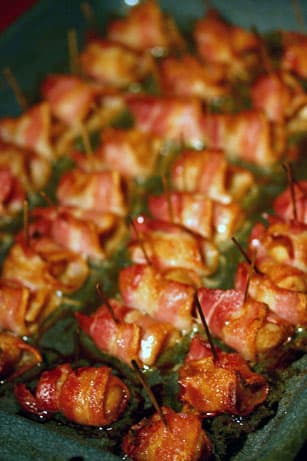 Bacon-Wrapped Water Chestnuts
Carey Burchfield
2 – 3 cans water chestnuts
¼ cup soy sauce
¼ cup sugar
1 package bacon
Soak for a couple hours. Wrap whole chestnuts in 1/3 strip of bacon. Bake for 30 minutes at 300° and then broil for 5 minutes.
MacGourmet Rating: 5 Stars
---
I've made these wings a few times before, but this time I found a variation of them on Food & Wine's website. The main difference I noticed from the recipe in the cookbook I have is that you don't have to wash and pat the wings dry. Also, I like adding cilantro at the end, like the other version states. They turned out better than any other time I've made them, and they were easier! These won't disappoint!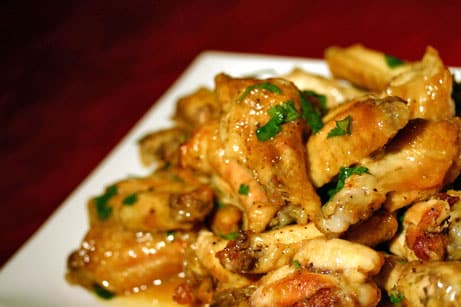 Red Curry-Lime Chicken Wings
Food & Wine – Tyler Florence
Tyler transforms basic chicken wings by baking them until they're crispy, then tossing them in a butter flavored with lime juice, honey and hot Thai red curry paste. As he says, "The sauce is so delicious you'll be licking your fingers and going for an extra stack of napkins."
ACTIVE: 20 MIN
TOTAL TIME: 50 MIN
SERVINGS: 8
4 lbs. chicken wings, tips discarded, wings separated into 2 pieces
Extra-virgin olive oil, for drizzling
Salt and freshly ground pepper
6 tablespoons unsalted butter, softened
1 tablespoon Thai red curry paste
1 tablespoon honey
Juice and finely grated zest of 1 lime
1 teaspoon soy sauce
1. Preheat the oven to 475°. Spread the wings on 2 large rimmed baking sheets. Drizzle with olive oil, season with salt and pepper and toss. Bake the wings for about 40 minutes, or until browned and crisp.
2. Meanwhile, in a large bowl, blend the butter with the curry paste, honey, lime juice and zest and soy sauce. When the wings are done, transfer them to the bowl and toss with the butter until well coated. Transfer the wings to a platter and serve.
Make Ahead: The flavored butter can be refrigerated overnight or frozen for up to 1 month.
MacGourmet Rating: 5 Stars
---
This is the recipe that my friend picked out for dinner. I prefer to use duck sauce rather than plum sauce, and I use a ready made pizza crust. The first time I made it, the dough didn't cook in the middle, so I like doing it this way better.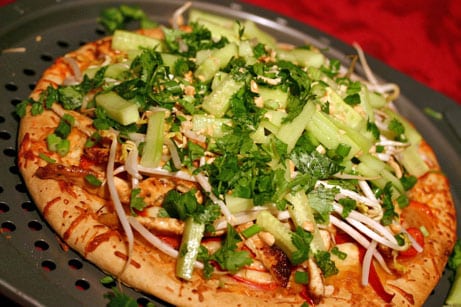 Thai Chicken Pizza
Rachael Ray
Prep Time: 10 minutes
Cook Time: 20 minutes
Yield: 4 servings
1 pizza dough, any brand
½ cup duck sauce or plum sauce
½ teaspoon crushed red pepper flakes
1 package (2 cups) shredded provolone or Monterey Jack cheese
½ red bell pepper, thinly sliced
1 tablespoon vegetable oil
2 tablespoons soy sauce
1 rounded tablespoonful peanut butter
2 teaspoons hot sauce
2 teaspoons grill seasoning (recommended: Montreal Steak Seasoning) eyeball it
4 chicken breast cutlets, 1/2 pound
2 tablespoons honey
2 tablespoons rice wine vinegar or cider vinegar
¼ seedless cucumber, peeled and cut into matchsticks
4 scallions, chopped
1 cup bean spouts, a couple of handfuls
Palm full cilantro leaves, chopped
¼ cup chopped peanuts, 2 ounces
Preheat oven to 425 degrees F.
Form pizza crust on pizza pan or cookie sheet. Top with duck or plum sauce – spread it around like you would pizza sauce. Sprinkle the pizza with some crushed red pepper flakes then top with cheese and peppers. Bake until golden and bubbly, 15 to 17 minutes.
Preheat a grill pan over medium-high heat. Combine vegetable oil, soy sauce and peanut butter with hot sauce and grill seasoning. Use the microwave to loosen up peanut butter if it is too cold to blend into sauce, 10 seconds ought to do it. Add chicken and coat evenly with mixture. Let stand 10 minutes then grill chicken cutlets 2 to 3 minutes on each side, until firm. Slice chicken into very thin strips.
While chicken cooks, mix honey and vinegar and add the cucumber. Turn to coat evenly.
Top the hot, cooked pizza with chicken, scallions, sprouts and cilantro. Drain cucumbers and scatter over the pizza. Garnish pizza with peanuts, cut into 8 wedges and serve.
MacGourmet Rating: 5 Stars
---
This is a recipe that my family has been making for years. It tastes best when it's still warm when you put the Cool Whip on top.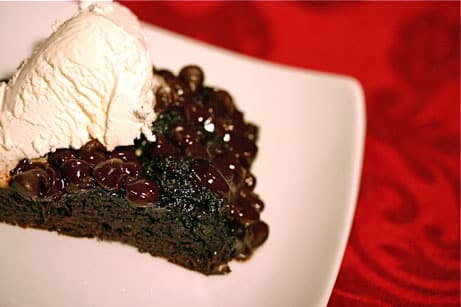 Mint Chocolate Chip Pudding Cake
Mom
1 package jello chocolate pudding, (not instant – the stovetop kind)
1 box chocolate cake mix
1 bag mint chocolate chips
Cool Whip
Prepare pudding as directed. Stir in cake mix. Pour into floured 9×13″ pan. Sprinkle chips on top. Bake at 350° for 25 minutes. Top with Cool Whip.
MacGourmet Rating: 5 Stars