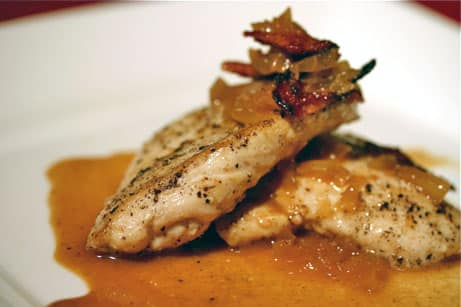 Chicken with Cider and Bacon Sauce
This post may contain affiliate links. Thank you for supporting the brands that keep me creative in my tiny kitchen!
This recipe is really good – it has a nice balance of sweet and salty. I would have liked the sauce to get a little thicker, but otherwise it was a nice meal. I served it with baked potatoes.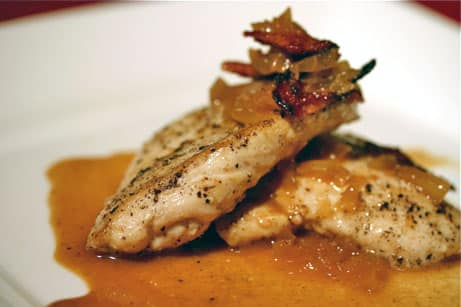 Chicken with Cider and Bacon Sauce
Cooking Light January 2005
Serve with broccoli and white and wild rice.
4 (6-ounce) skinless, boneless chicken breast halves
¼ teaspoon salt
¼ teaspoon freshly ground black pepper
2 bacon slices, chopped
¼ cup minced fresh onion
¾ cup unsweetened apple cider
½ cup fat-free, less-sodium chicken broth
Place each chicken breast half between 2 sheets of heavy-duty plastic wrap; pound to 1/2-inch thickness using a meat mallet or rolling pin. Sprinkle chicken evenly with salt and pepper.
Cook bacon in a large nonstick skillet over medium heat until crisp. Remove bacon from pan. Add chicken to drippings in pan; cook 6 minutes on each side or until done. Remove chicken from pan; keep warm.
Add onion to pan; cook 2 minutes or until tender, stirring constantly. Add cider and broth; bring to a boil, scraping pan to loosen browned bits. Cook until broth mixture is reduced to 1/2 cup (about 5 minutes). Stir in cooked bacon; serve sauce over chicken.
Yield: 4 servings (serving size: 1 chicken breast half and about 2 tablespoons sauce)
Nutritional notes:
CALORIES 269 (24% from fat); FAT 7.2g (sat 2.3g,mono 2.8g,poly 1g); IRON 1.3mg; CHOLESTEROL 106mg; CALCIUM 22mg; CARBOHYDRATE 6.9g; SODIUM 412mg; PROTEIN 41.1g; FIBER 0.2g
MacGourmet Rating: 4 Stars