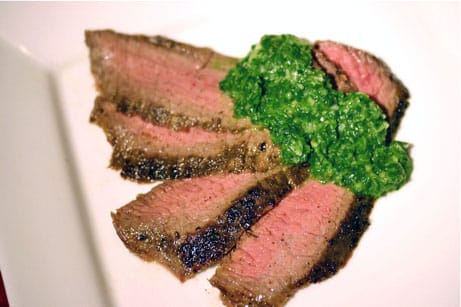 Cumin-Pepper Flank Steak with Horseradish Chimichurri
This post may contain affiliate links. Thank you for supporting the brands that keep me creative in my tiny kitchen!
This is from the newest issue of Cooking Light – it's in the "20 Minute Dishes" section. It's quick and easy, and packs a lot of flavor. I cooked the steak in the cast iron skillet and it turned out pretty tasty.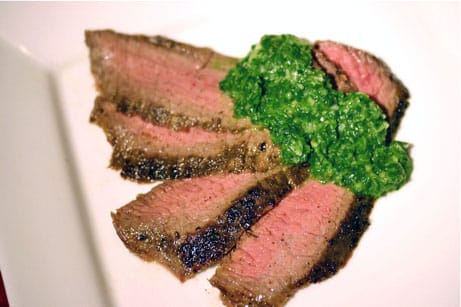 Cumin-Pepper Flank Steak with Horseradish Chimichurri
Cooking Light December 2008
Chimichurri is a thick herb sauce for meat that is popular in Argentina. Serve with whole wheat flour tortillas and sautéed sliced carrots.
Chimichurri:
⅔ cup fresh flat-leaf parsley leaves
2 tablespoons chopped green onions
2 tablespoons water
1 tablespoon prepared horseradish
1 tablespoon red wine vinegar
1 teaspoon olive oil
⅛ teaspoon salt
1 garlic clove, peeled
Steak:
1 (1-pound) flank steak, trimmed
1 teaspoon ground cumin
½ teaspoon salt
¼ teaspoon black pepper
1 teaspoon olive oil
1. To prepare chimichurri, combine first 8 ingredients in a food processor; process until smooth.
2. To prepare steak, rub steak with cumin, 1/2 teaspoon salt, and pepper. Heat 1 teaspoon oil in a large nonstick skillet over medium-high heat. Add steak to pan; cook 3 minutes on each side or until desired degree of doneness. Remove from pan; let stand 5 minutes. Cut steak diagonally across grain into thin slices. Serve with chimichurri.
Yield: 4 servings (serving size: 3 ounces steak and 1 1/2 tablespoons chimichurri)
Nutritional notes:
CALORIES 201 (47% from fat); FAT 10.4g (sat 3.6g,mono 4.9g,poly 0.6g); IRON 2.4mg; CHOLESTEROL 43mg; CALCIUM 40mg; CARBOHYDRATE 1.8g; SODIUM 433mg; PROTEIN 23.8g; FIBER 0.8g
MacGourmet Rating: 4 Stars