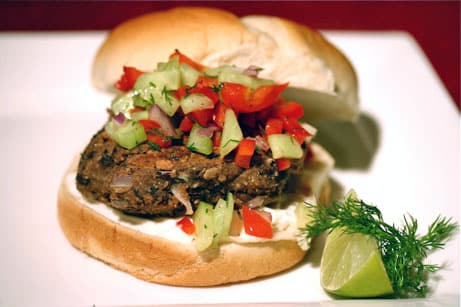 Black Bean Burgers with Spicy Cucumber and Red Pepper Relish
This post may contain affiliate links. Thank you for supporting the brands that keep me creative in my tiny kitchen!
This recipe really disappointed me – for some reason, I didn't like the combination of flavors together. It sounded like it'd be good, and Dino liked it, but it just got an "eh" from me. The texture of the burgers was good, so maybe with another combination of ingredients, it'd be OK.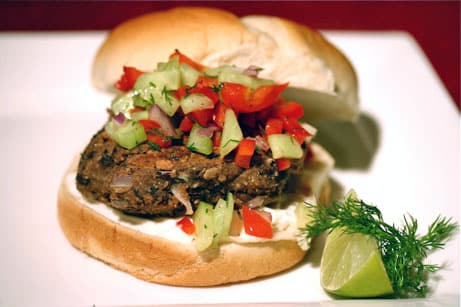 Black Bean Burgers with Spicy Cucumber and Red Pepper Relish
Cooking Light June 2001
Relish:
⅔ cup finely chopped peeled cucumber
½ cup finely chopped red bell pepper
¼ cup finely chopped red onion
1 tablespoon fresh lime juice
1 tablespoon honey
1 teaspoon finely chopped dill
⅛ teaspoon salt
Dash of ground red pepper
Burgers:
1 (15-ounce) can black beans, rinsed and drained
½ cup dry breadcrumbs
¼ cup minced red onion
½ teaspoon dried oregano
¼ teaspoon ground cumin
⅛ teaspoon black pepper
1 large egg
Cooking spray
¼ cup light mayonnaise
4 (1 1/2-ounce) hamburger buns
Dill sprigs (optional)
To prepare relish, combine first 8 ingredients in a medium bowl. Cover and chill 2 hours.
To prepare burgers, place beans in a large bowl; partially mash with a fork. Stir in breadcrumbs and next 5 ingredients (breadcrumbs through egg). Divide bean mixture into 4 equal portions, shaping each into a 1/2-inch-thick patty.
Prepare grill.
Place patties on grill rack coated with cooking spray; grill 5 minutes on each side or until thoroughly heated. Spread 1 tablespoon mayonnaise on the bottom half of each bun; top each with a patty, 1/4 cup relish, and top half of bun. Garnish with dill sprigs, if desired.
Yield: 4 servings
MacGourmet Rating: 3 Stars