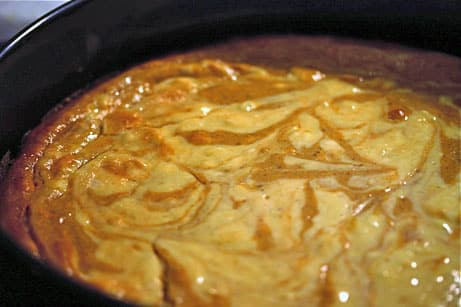 Muhammara | Farro Salad with Sauteéd Veggies and Feta with Lime Vinaigrette | Pumpkin Swirl Cheesecake
This post may contain affiliate links. Thank you for supporting the brands that keep me creative in my tiny kitchen!
We had an Un-Thanksgiving dinner party with some friends, and I made 3 dishes. The first 2 were ones I had made before, and the dessert was one that my cousin made last year that I absolutely loved.
This dip is amazing. It never fails to impress people! I don't use as much oil as it calls for – I just drizzle it in until it reaches a consistency that I like. Top it with feta for extra yumminess.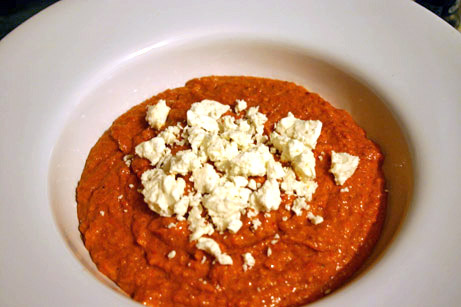 Muhammara
Gourmet December 1993
7-ounce jar roasted red peppers, drained
⅔ cup fine fresh bread crumbs
⅓ cup walnuts, toasted lightly and chopped fine
2 to 4 garlic cloves, minced and mashed to a paste with 1/2 teaspoon salt
1 tablespoon fresh lemon juice, or to taste
2 teaspoons pomegranate molasses*
1 teaspoon ground cumin
½ teaspoon dried hot red pepper flakes
¾ cup extra-virgin olive oil
toasted pita triangles as an accompaniment
In a food processor blend together the peppers, the bread crumbs, the walnuts, the garlic, the lemon juice, the pomegranate molasses, the cumin, the red pepper flakes, and salt to taste until the mixture is smooth and with the motor running add the oil gradually. Transfer the muhammara to a bowl and serve it at room temperature with the pita triangles.
Makes about 1 3/4 cups.
MacGourmet Rating: 5 Stars
---
I also made a variation on a CL farro salad that I experimented with back in July.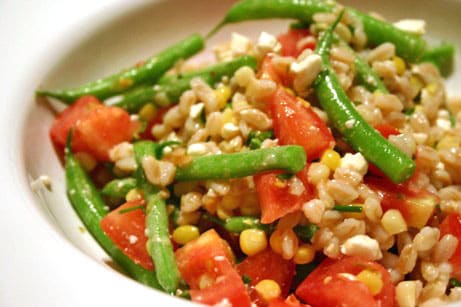 Farro Salad with Sauteéd Veggies and Feta with Lime Vinaigrette
I used the vinaigrette recipe from the Farro, Avocado, Cucumber, and Cherry Tomato Salad recipe from Cooking Light July 2008:
1 cup uncooked farro
4 teaspoons extravirgin olive oil
¼ teaspoon fresh grated lime rind
1 tablespoon fresh lime juice
1 tablespoon white wine vinegar
¾ teaspoon salt
Salad:
3 ears of corn, kernels cut off
1 large tomato, diced
handful of green beans, trimmed and halved
1/2 c. feta crumbles
pinch of red pepper flakes
fresh flat-leaf parsley
fresh chives
Cover farro with 2 inches of water in a saucepan. Bring to a boil. Cover and simmer for 30 minutes. Rinse with cold water in a colander and drain thoroughly. I noticed that some of the darker bits are hard, so I pick out any that I come across.
While the farro is cooking, sauté the corn in 1T olive oil. Add in green beans, tomato, and red pepper flakes.
Whisk the vinaigrette ingredients together in a large bowl. Add farro and sauteéd veggies and toss to coat. Add in chopped herbs and feta and toss lightly. Enjoy!
---
MacGourmet Rating: 5 Stars
This dessert is a great blend of 2 favorites – pumpkin pie and cheesecake. It was my first time making a cheesecake, and it turned out great! It cracked, so I think next time I'll use a water bath around the pan.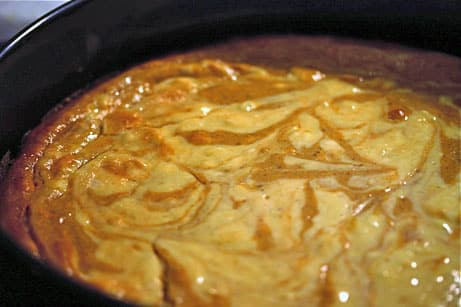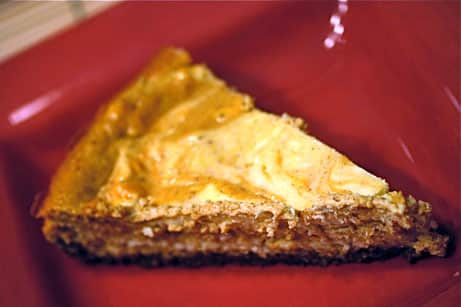 Pumpkin Swirl Cheesecake
Kraft Foods
25 NABISCO Ginger Snaps, finely crushed (about 1-1/2 cups)
½ cup finely chopped PLANTERS Pecans
¼ cup (1/2 stick) butter, melted
4 pkg. (8 oz. each) PHILADELPHIA Cream Cheese, softened
1 cup sugar, divided
1 teaspoon vanilla
4 eggs
1 cup canned pumpkin
1 teaspoon ground cinnamon
¼ teaspoon ground nutmeg
Dash ground cloves
Prep Time:
20 min
Total Time:
5 hr 25 min
Makes:
16 servings, one piece each
PREHEAT oven to 325°F if using a silver 9-inch springform pan (or to 300°F if using a dark nonstick 9-inch springform pan). Mix ginger snap crumbs, pecans and butter; press onto bottom and 1 inch up side of pan.
BEAT cream cheese, 3/4 cup of the sugar and the vanilla with electric mixer until well blended. Add eggs, one at a time, mixing on low speed after each addition just until blended. Remove 1-1/2 cups of the batter; place in small bowl. Stir remaining 1/4 cup sugar, the pumpkin and spices into remaining batter. Spoon half of the pumpkin batter into crust; top with spoonfuls of half of the reserved plain batter. Repeat layers. Cut through batters with knife several times for marble effect.
BAKE 55 min. to 1 hour 5 min. or until center is almost set. (Test doneness by gently shaking the pan. If the cheesecake is done, it will be set except for an approximately 2-1/2-inch area in the center that will be soft and jiggly.) Run knife or metal spatula around rim of pan to loosen cake; cool before removing rim. Refrigerate at least 4 hours before serving. Store leftovers in refrigerator.
How to Prepare Cheesecake in 13×9-inch Pan
Line 13×9-inch baking pan with foil, with ends of foil extending over sides of pan. Prepare cheescake as directed. Bake at 325°F for 45 min.
How to Test Cheesecake Doneness
Check cheesecake doneness by gently shaking the pan. If the cheesecake is done, it will be set except for a small area in the center that will be soft and jiggly. Do not insert a knife into the center as this may cause the cheesecake to crack during cooling.
Nutritional notes:
Calories 370
Total fat 27 g
Saturated fat 15 g
Cholesterol 120 mg
Sodium 340 mg
Carbohydrate 25 g
Dietary fiber 1 g
Sugars 18 g
Protein 6 g
Vitamin A 60 %DV
Vitamin C 0 %DV
Calcium 6 %DV
Iron 6 %DV
MacGourmet Rating: 5 Stars