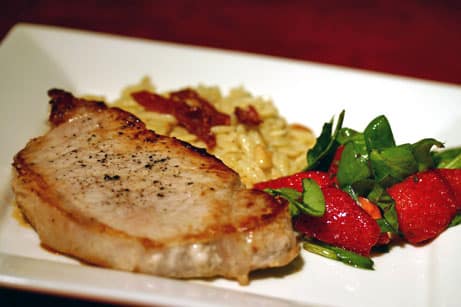 Pork Chops with Balsamic Strawberry Salad and Pine Nut Orzo
This post may contain affiliate links. Thank you for supporting the brands that keep me creative in my tiny kitchen!
This meal really frustrated me. Things weren't going great for me in the kitchen, and that might have influenced the results of this meal. I wasn't crazy about the combination of flavors. I won't be making this again.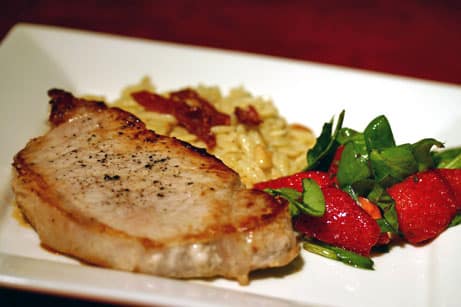 Pork Chops with Balsamic Strawberry Salad and Pine Nut Orzo
Every Day with Rachael Ray November 2008
SERVES 4
½ lb. orzo pasta*
½ cup balsamic vinegar
1 pint strawberries, quartered
½ cup basil leaves, torn
1 cup baby spinach leaves, sliced
Extra-virgin olive oil (EVOO), for drizzling
4 slices prosciutto, sliced into 1/2-inch strips
Four 1-inch-thick pork chops
Pepper
3 tablespoons butter
1 pinch cinnamon
1 pinch nutmeg
⅓ cup pine nuts, toasted
1. Bring a large pot of water to a boil, salt it, add the pasta and cook until al dente. Drain.
2. In a saucepan, boil the balsamic vinegar until reduced to 2 to 3 tablespoons, 5 minutes. In a bowl, toss the strawberries, basil and spinach with the balsamic glaze.
3. In a large nonstick skillet, heat a drizzle of EVOO over medium-high heat. Add the prosciutto strips and cook for 5 minutes. Transfer to paper towels to drain. Add another drizzle of EVOO to the skillet. Season the chops with salt and pepper and cook, turning once, until cooked through, 8 minutes.
4. In another large skillet, cook the butter over medium heat until brown, about 3 minutes. Add the pasta, cinnamon and nutmeg and toss; season with salt. Stir in the nuts.
5. Spoon the salad over the chops and top the orzo with the prosciutto.
*Optional: use Gluten Free
MacGourmet Rating: 3 Stars