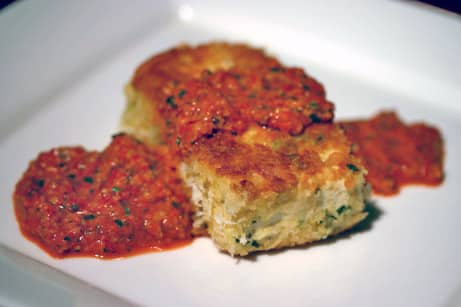 Tofu Steaks with Red Pepper–Walnut Sauce
This post may contain affiliate links. Thank you for supporting the brands that keep me creative in my tiny kitchen!
This dish was pretty good. The sauce is powerful, so watch out! I think that the next time I make a sauce that I want to use with tofu, I'll use this method. The texture was great. You definitely don't need 2 cups of panko for one block of tofu though.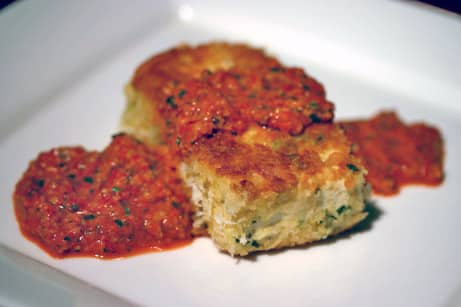 Tofu Steaks with Red Pepper–Walnut Sauce
Cooking Light December 2008
The herb-flecked marinade also serves as the base of a delicious Mediterranean-style dipping sauce. Serve with couscous or toasted bread to enjoy all of the sauce.
1 (14-ounce) package water-packed reduced-fat extra-firm tofu
¼ cup finely chopped fresh basil
¼ cup water
2 tablespoons chopped fresh parsley
1 tablespoon chopped fresh thyme
2 tablespoons white wine vinegar
1 tablespoon Dijon mustard
½ teaspoon salt
½ teaspoon crushed red pepper
8 garlic cloves, minced
½ cup all-purpose flour
½ cup egg substitute
2 cups panko (Japanese breadcrumbs)
2 tablespoons olive oil
3 tablespoons chopped walnuts, toasted
1 (12-ounce) bottle roasted red peppers, drained
1. Cut tofu crosswise into 4 slices. Place tofu slices on several layers of heavy-duty paper towels; cover with additional paper towels. Let stand 30 minutes, pressing down occasionally.
2. Combine basil and next 8 ingredients (through garlic) in a large zip-top plastic bag. Add tofu to bag; seal. Marinate in refrigerator 1 hour, turning bag occasionally.
3. Place flour in a shallow dish. Place egg substitute in another shallow dish. Place panko in another shallow dish.
4. Remove tofu from marinade, reserving remaining marinade. Working with one tofu piece at a time, dredge tofu in flour, shaking off excess. Dip tofu in egg substitute, allowing excess to drip off. Coat tofu completely with panko, pressing lightly to adhere. Set aside. Repeat procedure with remaining tofu, flour, egg substitute, and panko.
5. Heat a large nonstick skillet over medium-high heat. Add olive oil to pan, swirling to coat. Add tofu to pan; reduce heat to medium, and cook for 4 minutes on each side or until browned. Remove tofu from pan, and keep warm.
6. Combine reserved marinade, walnuts, and bell peppers in a blender; process until smooth (about 2 minutes). Pour bell pepper mixture into pan; cook over medium-high heat 2 minutes or until thoroughly heated. Serve with tofu.
Yield: 4 servings (serving size: 1 tofu piece and about 1/3 cup sauce)
Nutritional notes:
CALORIES 291 (47% from fat); FAT 15.1g (sat 1.3g,mono 6.4g,poly 5.9g); IRON 2.8mg; CHOLESTEROL 0.0mg; CALCIUM 74mg; CARBOHYDRATE 23g; SODIUM 661mg; PROTEIN 15.9g; FIBER 3.5g
MacGourmet Rating: 4 Stars