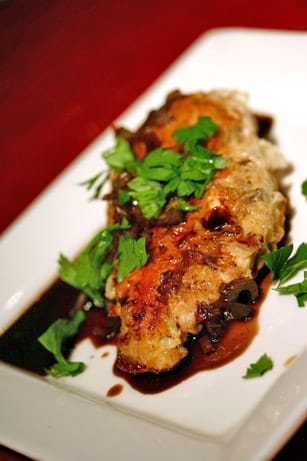 Sautéed Chicken Breasts with Balsamic Vinegar Pan Sauce
This post may contain affiliate links. Thank you for supporting the brands that keep me creative in my tiny kitchen!
This recipe was really good. The coating on the chicken is nice and the flavors work well together but the sauce was a little too thin for my liking.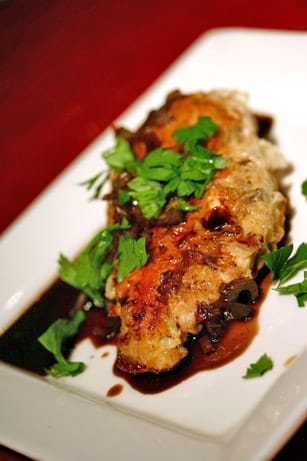 Sautéed Chicken Breasts with Balsamic Vinegar Pan Sauce
Cooking Light March 2004
To assure the chicken gets done, use breasts on the small side, about 4 to 5 ounces each. Serve with polenta or orzo to absorb the sauce.
½ cup fat-free, less-sodium chicken broth
½ cup balsamic vinegar
2 teaspoons honey
1 tablespoon butter
1 tablespoon vegetable oil
4 (5-ounce) skinless, boneless chicken breast halves
¼ teaspoon salt
¼ teaspoon freshly ground black pepper
¼ cup all-purpose flour
2 tablespoons finely chopped shallots
Chopped parsley, (optional)
Combine broth, vinegar, and honey.
Melt butter and oil in a large nonstick skillet over low heat.
While butter melts, sprinkle chicken with salt and pepper. Place flour in a shallow dish. Dredge chicken in flour; shake off excess flour.
Increase heat to medium-high; heat 2 minutes or until the butter turns golden brown.
Add chicken to pan; cook 4 minutes on each side or until golden brown. Remove chicken from pan; keep warm. Add shallots, and sauté 30 seconds.
Add the broth mixture, scraping to loosen browned bits. Bring to a boil, and cook until reduced to 1/2 cup (about 3 minutes). Serve sauce over chicken. Garnish with chopped parsley, if desired.
Serving size: 1 breast and 2 tablespoons sauce.
Serves 4.
Nutritional notes:
CALORIES 269 (27% from fat); FAT 8.1g (sat 2.7g, mono 2g, poly 2.5g); PROTEIN 34g; CARB 13.1g; FIBER 0.2g; CHOL 90mg; IRON 1.7mg; SODIUM 331mg; CALC 29mg
MacGourmet Rating: 4 Stars