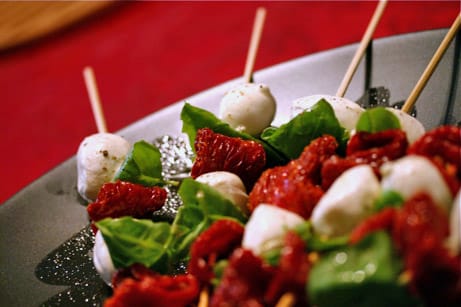 Sundried Tomato Kebabs | New Potatoes with Roasted Garlic Vinaigrette | Balsamic Marinated Pork Tenderloin
This post may contain affiliate links. Thank you for supporting the brands that keep me creative in my tiny kitchen!
We had some friends over for a game night, and I made some of our favorite dishes for dinner.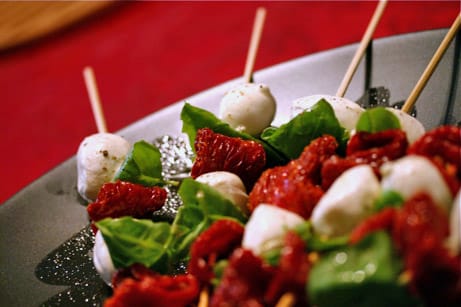 Sundried Tomato Kebabs
Giada De Laurentiis
Difficulty: Easy
Prep Time: 15 minutes
Yield: 12 skewers, 6 servings
24 oil-packed sundried tomato halves, drained, oil reserved
24 medium basil leaves
24 small fresh mozzarella balls packed in water, drained
Salt and freshly ground black pepper
Special Equipment: 12 (8-inch) wooden skewers
Alternate 1 sun-dried tomato half, 1 basil leaf, 1 mozzarella ball, 1 more basil leaf, 1 more sun-dried tomato half and 1 more mozzarella ball on each skewer. Arrange the skewers on a platter. Drizzle the reserved oil from the sun-dried tomatoes over the skewers. Sprinkle with salt and pepper, and serve.
MacGourmet Rating: 5 Stars
---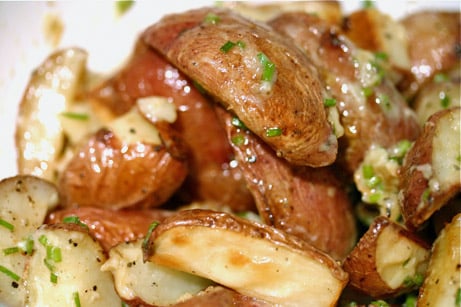 New Potatoes with Roasted Garlic Vinaigrette
Cooking Light November 2008
While raw garlic is pungent, roasted garlic is sweet and mild with a buttery texture. Roast extra garlic for our Roasted Garlic Pizza. Serve this warm twist on potato salad as a side dish with steak or roast chicken.
3 tablespoons olive oil, divided
1 ¼ teaspoons kosher salt, divided
½ teaspoon freshly ground black pepper, divided
7 garlic cloves, unpeeled
3 lbs. small red potatoes, quartered
3 tablespoons minced chives
2 tablespoons white wine vinegar
2 teaspoons Dijon mustard
1. Preheat oven to 400°.
2. Combine 1 1/2 tablespoons olive oil, 1/2 teaspoon salt, 1/4 teaspoon pepper, garlic, and potatoes in a roasting pan or jelly-roll pan; toss well to coat. Bake at 400° for 1 hour and 10 minutes or until tender, stirring after 35 minutes. Cool 10 minutes.
3. Squeeze garlic cloves to extract pulp. Discard skins. Combine garlic pulp, remaining 1 1/2 tablespoons oil, remaining 3/4 teaspoon salt, remaining 1/4 teaspoon pepper, chives, vinegar, and mustard in a large bowl; stir well with a whisk. Add potatoes to bowl; toss well to coat.
Yield: 8 servings (serving size: about 3/4 cup)
Nutritional notes:
CALORIES 170 (28% from fat); FAT 5.3g (sat 0.8g,mono 3.7g,poly 0.6g); IRON 1.3mg; CHOLESTEROL 0.0mg; CALCIUM 23mg; CARBOHYDRATE 28.3g; SODIUM 335mg; PROTEIN 3.4g; FIBER 3g
MacGourmet Rating: 5 Stars
---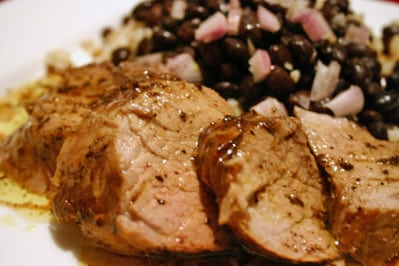 Balsamic Marinated Pork Tenderloin
pork tenderloin
½ cup olive oil
⅓ cup balsamic vinegar
1 tablespoon lemon juice
2 tablespoons Worcestershire sauce
2 tablespoons soy sauce
salt
black pepper
Mix marinade ingredients in freezer bag. Add pork and marinate at least 2 hours (the longer the better) in the refrigerator. Turn the bag halfway through.
Pour marinade and pork into baking dish. Bake at 375° for 45 minutes to 1 hour, keeping covered for the first 20 minutes.
Remove pork and let rest before slicing into medallions. Pour a little sauce over top and serve the rest in a gravy boat on the side.
MacGourmet Rating: 5 Stars