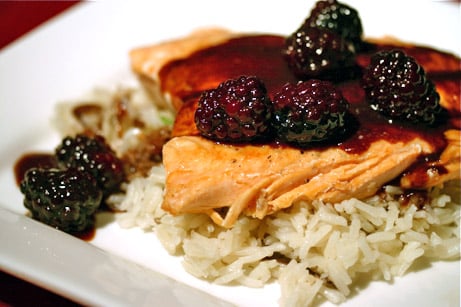 Salmon with Blackberry Brandy Sauce | Jasmine Rice with Shiitake and Green Onion
This post may contain affiliate links. Thank you for supporting the brands that keep me creative in my tiny kitchen!
I'm trying to get myself to like seafood, but so far, I haven't cooked much of it at home. Tonight was my first time cooking salmon, and it turned out so fantastically! A big part of the problem with why I don't usually like seafood is that it's hard to find good, fresh fish. But when I woke up this morning, I decided that today would be the day that I'd try to cook salmon at home. There's a gourmet market near my house that has an entire fish counter that doesn't even smell remotely fishy. I figured they'd have some good salmon…and they did!
This recipe is outstanding! The sauce is luscious, and the salmon melts like butter. I've only eaten salmon a few times, but I knew that I had to be careful not to overcook it. If it dries out, it really loses something. It was perfect! I highly recommend trying this recipe! Yet another hit from the lovely Jaden Hair!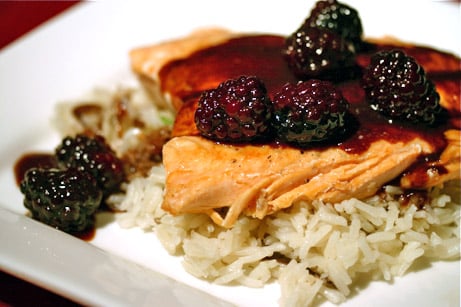 Salmon with Blackberry Brandy Sauce
Jaden's Steamy Kitchen
I like to stir in the fresh blackberries last, to prevent the delicate but seedy fruit from breaking up in the Blackberry Brandy Sauce. This is also a great sauce for pork chops, or if you're vegetarian, try this over thick slices of cauliflower "steak." Slice a head of cauliflower into 3/4 inch thick slices, so that they resemble big, thick, roundish slabs. 1 slab per person. Season and pan fry each side for 2 minutes (you might have to use 2 frying pans) in a bit of olive oil until golden brown. Bake at 250F for 10 minutes until the center can be pierced easily with a fork. Remove, tent and continue on with recipe below to make the Blackberry Brandy Sauce.
4 salmon fillets, about 1 inch thick and 6 ounces each
kosher salt and freshly ground black pepper
1 tablespoon cooking oil
2 teaspoons Dijon mustard
½ teaspoon chili powder
¼ cup water
2 tablespoons balsamic vinegar
2 tablespoons seedless blackberry preserves
3 tablespoons brandy
1 pint fresh blackberries
1 ½ tablespoons butter
¾ teaspoon kosher salt
Lightly season the salmon with a pinch of salt and pepper on each side. In a frying pan over high heat, add the cooking oil. When the oil is very hot, add the salmon fillets, not touching. Fry for 2 minutes, flip the salmon, turn the heat to medium, cover and let cook for an additional 2-3 minutes or until the salmon is just slightly rare in the middle. Cook an additional minute if you like your salmon cooked all the way through. Remember the residual heat will continue to cook the salmon further after you remove from heat. With a spatula, remove the salmon to a plate and tent loosely with tin foil to keep warm while you make the sauce.
Return the same frying pan on medium heat (you should have some juicy bits and oil still clinging to the pan) whisk together the mustard, chili powder, water, vinegar and blackberry preserves. When the sauce is bubbling nicely, pour in the brandy and whisk. Simmer for 3 minutes until the sauce thickens to coat the back of a spoon. Stir in the blackberries and the butter. Stir to melt and incorporate the butter. Taste the sauce, you may want to season with the 1/2 teaspoon of salt if you are using unsalted butter. You can also an additional 1/2 teaspoon blackberry preserves if the blackberries are puckery tart. Too sweet? Add another 1/2 teaspoon of balsamic vinegar. Pour over the salmon and serve.
Serves 4
MacGourmet Rating: 5 Stars
---
I knew that I wanted to make rice on the side, and Dino suggested adding mushrooms. So we saw some great shiitakes in the store, and I thought scallions would add a nice mild onion-y touch at the end. The broth really gave it a lot of flavor too. It turned out really nicely…and I'll use the leftovers to go with tomorrow night's dinner.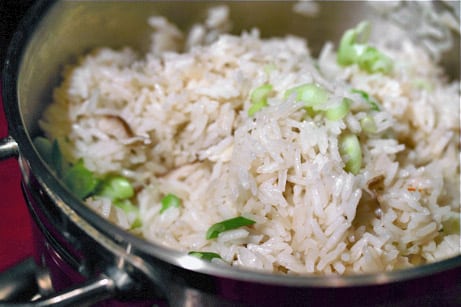 Jasmine Rice with Shiitake and Green Onion
2 cups jasmine rice
1 clove garlic, minced
extra-virgin olive oil, to cover bottom of pan
2 ¾ cups low sodium chicken broth
2 loose handfuls shiitake mushroom caps, sliced
kosher salt
pinch red pepper flakes
2 green onions, chopped on an angle
Heat oil in a medium saucepan. Add dry rice, garlic, mushrooms and red pepper flakes and stir until fragrant. Season with salt and add red pepper flakes. Cover with broth and bring to a bubble. Turn heat to low and cover. When rice is done, toss in green onions and serve.
MacGourmet Rating: 4 Stars