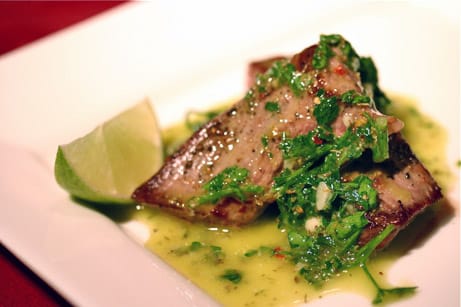 Grilled Skirt Steaks with Parsley Oregano Sauce
This post may contain affiliate links. Thank you for supporting the brands that keep me creative in my tiny kitchen!
This dish was good, but definitely not anything too original. I would have preferred a chimichurri. Not to mention that the recipe says that 1/2 pound of steak is enough for 4 people. Puh-lease! I substituted flank steak, but I guess we were just let down. Not to mention my immersion blender wasn't doing a good job chopping the herbs and garlic for the sauce. Eh…it's still a good recipe, but definitely needs modifications.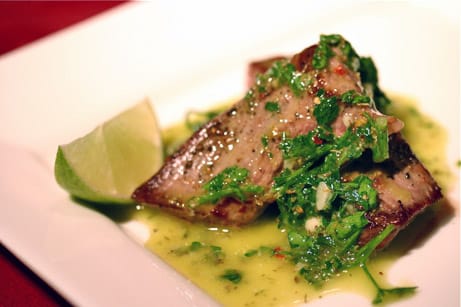 Grilled Skirt Steaks with Parsley Oregano Sauce
Gourmet September 2007
yield: Makes 4 servings
active time: 10 min
total time: 20 min
Skirt steak is delicious served plain, but since you can get such fantastic South American flavor out of these basic pantry items, why not embellish it?
1 (1/2-pound) skirt steak, cut crosswise into 4 pieces
1 cup coarsely chopped flat-leaf parsley
2 large garlic cloves
2 teaspoons dried oregano
½ teaspoon dried hot red-pepper flakes
¼ cup fresh lime juice
⅔ cup olive oil
*Equipment: a large (2-burner) ridged grill pan (preferably cast-iron)
Heat grill pan over medium-high heat until hot, then lightly oil. 3Pat steaks dry and sprinkle all over with 1 teaspoon salt and 1/4 teaspoon black pepper (total).
Grill steaks, turning over occasionally, 2 to 8 minutes total for medium-rare (depending on thickness of meat). Transfer to a platter and let stand 5 minutes.
While steaks are grilling, purée remaining ingredients with 3/4 teaspoon salt in a blender until smooth.
Serve steaks with sauce.
MacGourmet Rating: 3 Stars