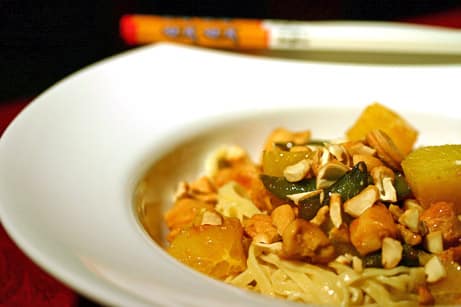 Teriyaki Chicken and Pasta
This meal was quick to put together, and pretty tasty. I would have preferred fresh sugar snap peas though, since the frozen ones don't have the texture to deserve to have the word "snap" in the title. Dino wasn't crazy about the pieces of orange in this one, but that was my favorite part. The crunch from the cashews is really nice on top of this dish.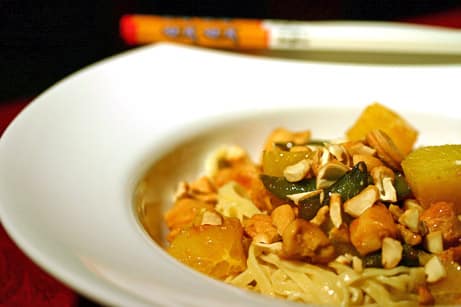 Teriyaki Chicken and Pasta
Pillsbury
Prep Time: 25 min
Makes: 3 servings
Garnished with crunchy cashews, this mixture of Asian-style chicken with sugar snap peas perks up a Sunday supper.
1 (9-oz.) pkg. refrigerated linguine
3 boneless skinless chicken breast halves, cut into 3/4- inch pieces
1 ½ cups Green Giant Select® Frozen Sugar Snap Peas
½ cup purchased teriyaki baste and glaze
1 medium seedless orange
¼ cup cashew pieces
1. Cook linguine to desired doneness as directed on package. Drain; cover to
keep warm.
2. Meanwhile, spray medium nonstick skillet with nonstick cooking spray.
Heat over medium-high heat until hot. Add chicken; cook and stir until
browned.
3. Add peas and teriyaki baste and glaze to chicken. Reduce heat to medium;
cover and cook 5 to 8 minutes or until chicken is no longer pink and peas
are tender.
4. Meanwhile, grate 1 teaspoon peel from orange; set aside. Remove remaining
peel from orange; discard peel. Cut orange into 1-inch pieces. Add grated
peel and orange pieces to chicken mixture; mix well. Serve chicken mixture
over linguine; sprinkle with cashews.
Nutritional notes:
Serving Size: 1/3 of Recipe
Calories 430 Calories from Fat 80
% DAILY VALUE
Total Fat 9g 14%
Saturated 2g 10%
Cholesterol 100mg 33%
Sodium 940mg 39%
Total Carbohydrate 57g 19%
Dietary Fiber 4g 16%
Sugars 15g
Protein 31g
% Daily Value*:
Vitamin A 6% Vitamin C 25%
Calcium 10% Iron 25%
Exchanges: 2 1/2 Starch; 1 Fruit; 1 Vegetable; 3 Very Lean Meat; 1 Fat
MacGourmet Rating: 4 Stars