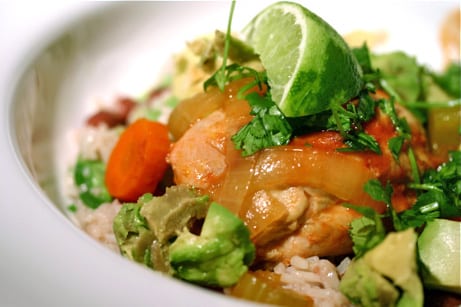 Slow Cooker Chipotle-Lime Chicken Thighs Jamaican Rice and Peas
This post may contain affiliate links. Thank you for supporting the brands that keep me creative in my tiny kitchen!
My mom picked this one out as the meal we'd both cook for the week. It was OK – definitely don't forget the salt and pepper at the end, or it just ends up tasting like a ton of flavors that don't fit well together. The rice was kind of mushy – there was too much liquid – so I had to turn the heat back on to cook some of it out. Also, I didn't have the source when I was making it, so thankfully I read through the recipe and saw that you're supposed to take out half of the chicken for another meal. That's how Robin Miller works, which is fine, but I'm glad I noticed it and cut the amount of meat in half, otherwise I'd have a ton of that chicken leftover. So this recipe gets a big "meh" from me – neither really good nor really bad.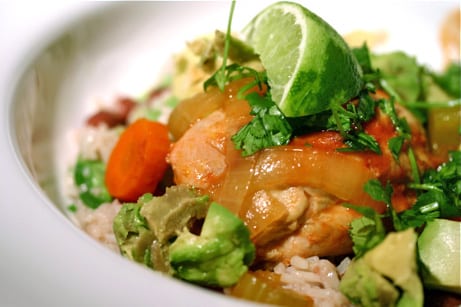 Slow Cooker Chipotle-Lime Chicken Thighs Jamaican Rice and Peas
Quick Fix Meals with Robin Miller
Prep Time: 20 min
Cook Time: 3 hr 0 min
Serves: 4
1 cup sliced onion
1 cup chopped celery
1 cup chopped carrots
4 lbs. skinless chicken thighs
Salt and freshly ground black pepper
1 (15-ounce) can tomato sauce
¼ cup lime juice
1 tablespoon minced chipotle chiles in adobo sauce with 1 teaspoon sauce from can
2 cloves garlic, minced
1 avocado, diced
¼ cup chopped fresh cilantro leaves
Lime wedges, for garnish
Jamaican Rice and Peas:
2 cups instant white rice
1 (14-ounce) can coconut milk
1 cup water
1 (15-ounce) can red beans, drained
1 teaspoon dried thyme
½ teaspoon finely grated lime zest
¼ cup chopped scallions
Salt and freshly ground black pepper
Arrange onion, celery and carrots in bottom of slow cooker. Season chicken thighs with salt and pepper and arrange over vegetables.
In a medium bowl, whisk together tomato sauce, lime juice, chipotle chiles with sauce, and garlic. Pour mixture over chicken.
Cover and cook on low for 6 to 8 hours or high for 3 to 4 hours. Serve half of the thighs with this meal (topped with diced avocado and cilantro and garnished with lime wedges) and reserve remaining thighs for another meal.
In a medium saucepan, combine rice, coconut milk, water, beans, thyme, and lime zest. Set pan over high heat and bring to a simmer. Reduce heat to low, cover and simmer 5 minutes, until liquid is absorbed. Fold in scallions and season to taste with salt and pepper.
MacGourmet Rating: 3 Stars