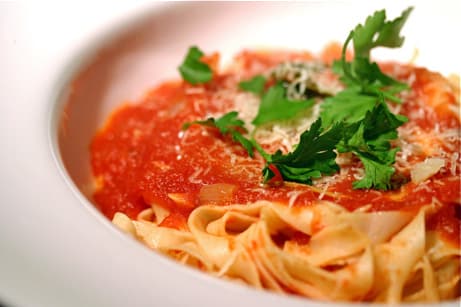 Food-Processor Pasta Dough
This post may contain affiliate links. Thank you for supporting the brands that keep me creative in my tiny kitchen!
A friend gave us a jar of his family's homemade pasta sauce for Christmas, so I decided to finally break out the pasta attachments for my KitchenAid. This dough is easy to make, but I highly recommend having someone with muscles knead the dough for you. I had no idea how much harder pasta dough is to work with than pizza dough. I made homemade pasta before, but obviously I didn't do it right, since it was much softer. Anyway, I used a clothes drying rack to hang the sheets of pasta on while I worked. Homemade pasta is highly labor intensive, but definitely worth it! And if you knead it yourself, it's a really good workout, too!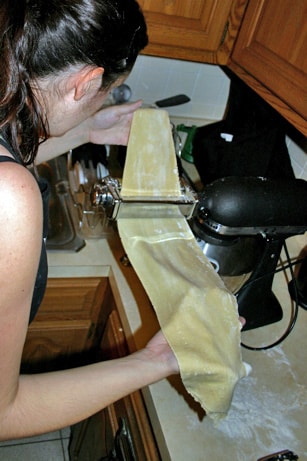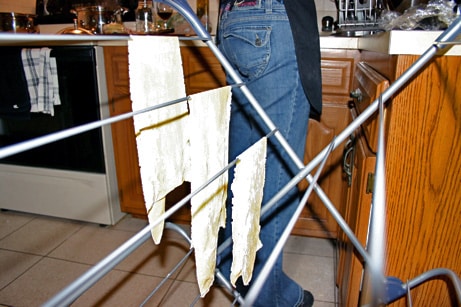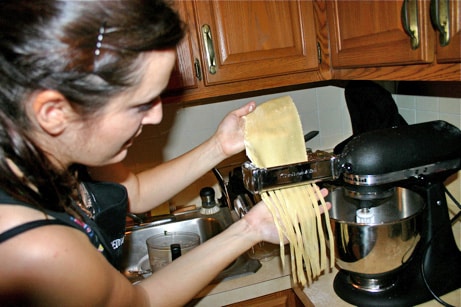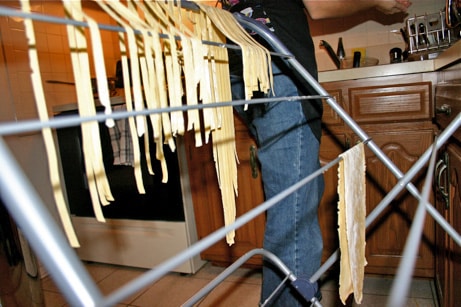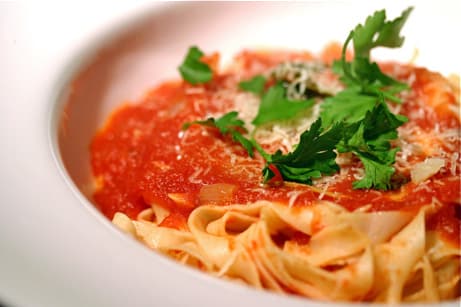 Food-Processor Pasta Dough
Gourmet February 1997
This pasta dough may instead be mixed by hand, following the instructions in the first paragraph of the recipe for Semolina Orecchiette. Use this recipe to make Fresh Trenette, Fresh Taglierini, and Swiss Chard Ravioli with Quick Tomato Sauce.
2 cups unbleached all-purpose flour plus additional for kneading
3 large eggs
1 teaspoon water
1 teaspoon olive oil
1 teaspoon salt
In a food processor blend all ingredients except for additional flour until mixture just begins to form a ball. On a lightly floured surface knead dough, incorporating additional flour as necessary, until smooth and elastic, about 8 minutes. Dough is best used immediately but may be made 1 day ahead and chilled, wrapped in plastic wrap.
To roll pasta dough:
Set smooth rollers of pasta machine on widest setting. Cut dough into 4 pieces and wrap 3 of them separately in plastic wrap. Flatten unwrapped piece of dough into rectangle and feed through rollers. Fold rectangle in half and feed through rollers 8 or 9 more times, folding in half each time and dusting in half as necessary to prevent sticking.
Turn dial down to next (narrower) setting and feed dough through rollers without folding. Continue to feed dough through, without folding, making space between rollers narrower each time, until narrowest setting is reached. Halve sheet crosswise and arrange on a dry kitchen towel, letting pasta hang over edge of work surface. Roll out remaining dough in same manner. Cut dough while pasta is still soft.
MacGourmet Rating: 5 Stars