This post may contain affiliate links, which won't change your price but will share some commission.
This is a delicious and authentic Persian dish with wonderful flavors. It was my first time cooking with lamb, and it went really well! The fact that it can be made in a pressure cooker in 20 minutes makes me think maybe I should get one of those, because the aromas will drive you crazy waiting for 2 hours to dig into this dish! I served it with yogurt (that I added cucumber, salt, a drizzle of honey and lemon juice to) and pitas. Fantastic and super satisfying. That makes 2 hits from this cookbook so far! Yay!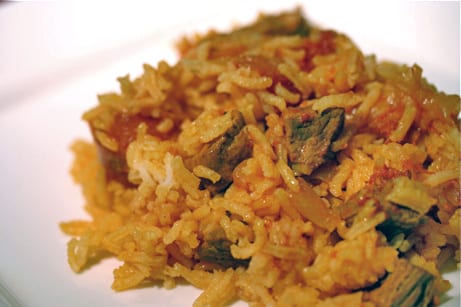 Tomato Rice (Eslamboli Pollo)
Persian Cooking: A Table of Exotic Delights - Nesta Ramazani
3 cups rice
6 tablespoons salt
2-3 pounds shoulder of lamb
2 large onions, sliced or chopped
½ cup butter
1 teaspoon turmeric
1 can beef broth or bouillon
3 tablespoons tomato paste
¼ cup warm water
2 large cans (number 2 ½) tomatoes
1 teaspoon salt
¼ teaspoon pepper
1 tablespoon soy sauce
2 tablespoons lemon juice, (or ½ cup white wine)
(Serves 4-6)
Bring a large pot of water to a rolling boil; add the rice and salt. Boil for 10 minutes and drain in a colander; rinse well with cold water and set aside to drain well.
Have your butcher bone the lamb. Cut off the excess fat and cut the meat into 1-inch pieces. Sauté the onions in 4 tablespoons of the butter until golden brown. Add the meat and sauté until brown. Stir in the turmeric. Add the beef broth, tomato paste (diluted in warm water), canned tomatoes, salt, pepper, soy sauce and lemon juice. Cover and simmer until tender (about 1 ½ hours); or cook in a pressure cooker for 20 minutes, allowing the pressure to drop on its own accord.
Melt the remaining 4 tablespoons of butter in a large kettle, pour in ⅓ of the rice, then ⅓ of the meat mixture. Alternate layers of rice and meat until the ingredients have all been used up. Cover the kettle with a lid wrapped in a cloth, and steam over a medium heat for about 30 minutes.
The dish, when inverted onto a serving platter, will be quite red; it is very decorative as well as delicious.
Serve with a salad or green vegetable or yogurt.
MacGourmet Rating: 5 Stars